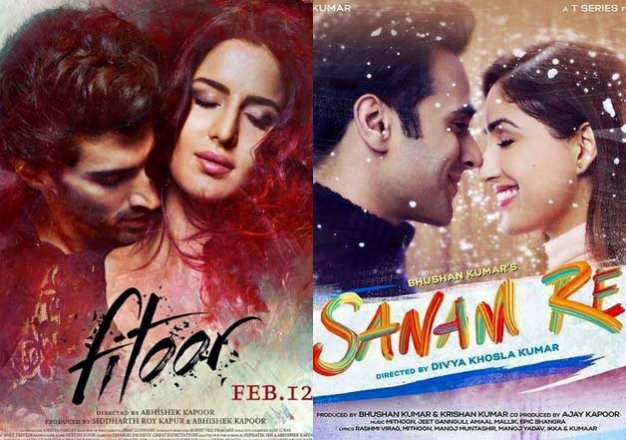 New Delhi: Bollywood has ensured that cinema lovers are treated with love stories this Valentines Day. With love in the air, the release of two movies of the romance genre is sure to make this V-Day extra special. Both Katrina Kaif – Aditya Roy Kapur's 'Fitoor' and Yami Gautam – Pulkit Samrat's 'Sanam Re' release on February 12.
The stars of both the movies are leaving no stone unturned to promote their respective films. Unfortunately for 'Sanam Re', the box-office clash could well turn out to be more harmful than for 'Fitoor'.
Here are five reasons why:
Aditya-Katrina vs Pulkit-Yami:
Comparing the trailers of both the movies, one can easily notice that the chemistry between Yami and Pulkit lacks the intensity of Katrina and Aditya. The latter pair's sizzling chemistry was one of the high points of the trailer and the viewers are excited to see them romance each other on screen.
Story:
'Fitoor' won half the battle against 'Sanam Re', courtesy its story. The movie is an adaptation of Charles Dickens' classic novel 'Great Expectations'. On the other hand, 'Sanam Re' looks like a clichéd Bollywood rom-com of a hero's journey to regain the affection of his lady love.
Director:
Abhishek Kapoor who has helmed 'Fitoor' has movies like Rock On!!(2008) and Kai Po Che (2013) to his credit. Both the movies won audience's hearts and critical acclaim. Divya Khosla Kumar, who has directed 'Sanam Re' is only one-movie-old. Though the last movie 'Yaariyan' turned out to be a hit, it didn't please critics.
Tabu and Ajay Devgn:
After playing mother to Shahid Kapoor, Tabu will essay the character of Katrina's mother in 'Fitoor'. The trailer hinted that her character is full of dark shades and her heartbroken past has still not left her mind. Also, Ajay Devgn will be seen in an intense role in the movie, something which is bound to give it an upper hand over 'Sanam Re.'
The break-up factor:
Katrina Kaif's split with beau Ranbir Kapoor might just turn out to favour 'Fitoor'. Wherever she is going these days she is being surrounded by questions about her love life resulting in a creation of a lot of buzz around 'Fitoor'. Everyone wants to see Kat being in love on screen; especially when her off-screen romance did not end well.