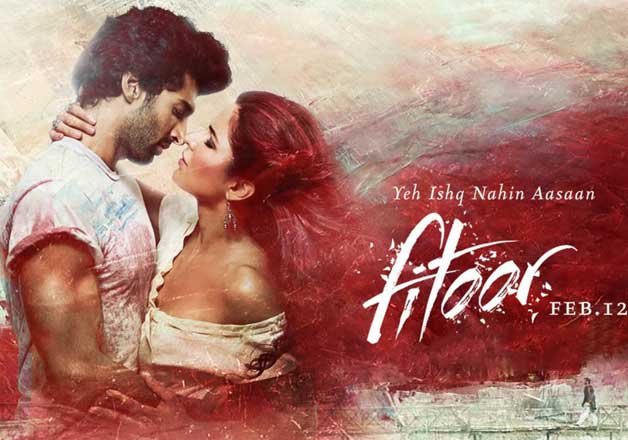 Cast: Katrina Kaif,Aditya Roy Kapur,Tabu
Genre: Romance/Drama
Music:  Amit Trivedi
Director : Abhishek Kapoor
Rating: **(2/5)
Abhishek Kapoor's Fitoor, which draws its inspiration from Charles Dickens' celebrated novel 'Great Expectations', falls heavily short of expectations.  
The story traces the life of Noor (Aditya Roy Kapur), a poor Kashmiri boy with a passion for painting who gets besotted by Firdauss (Katrina kaif), a young girl from the aristocratic class.
Noor's life takes a dramatic turn when he is employed by Firdauss' eccentric mother Begum Hazrat (Tabu) who lives in a castle of chandeliers, puffs Hookah and delivers archetypal old-school Muslim dialogues. After Firdaus leaves to study, Noor finds a mysterious benefactor who supports him in becoming a renowned artist. Firdaus' return to Noor's life brings about changes in his life – both for good and bad. First, his obsession with Firdauss costs him his work. He somehow recovers only to be confronted with another surprise in his life.
Fitoor starts on a high note - an innocent kid infatuated by a girl in a Kashmir of moon-lit snows, a grief-laden aristocratic woman and an unexpected tragedy. Makes for all right ingredients. However, problems in the film  begin when these characters grow up. The trouble is that they never really did grow up.
The Kashmiri kid with innocent eyes grows up into a man (Kapur) with hair his bunched upon his head, remains bare-chested in most of the film and carries less expressions and more paintbrushes.
The girl child with a clear Urdu accent finds it difficult to pronounce 'ghurrna' (staring) when she grows up into a Chinar-esque red-haired Katrina.
As the film progresses, the narrative gets sloppy and the story loses its grip. Its lopsided reliance on the stunning Kashmir canvas than its characters leaves the story difficult to empathise with.
Unlike the novel, the class struggle of the protagonist finds little mention in the film; the sequence of events look even more unconvincing.
Opulent production design and exceptional cinematography of Anay Goswami who has conjured up some enchanting, fable-like visuals especially of Kashmir needs honorary mention.
Barring Tabu , both Aditya Roy Kapur and Katrina has done gross injustice to their roles. Katrina's dialogues were so fragmented and unconvincing that when she is put in same frame with talented Tabu, one can easily have simultaneous lessons in how to act and how not to.
Aditya Roy Kapur too fails to bring the intensity and depth that his character demanded. All he can be seen doing is flaunting his body, gazing hard at Katrina and waiting for dialogues. His sudden transition of Noor, a native Kashmiri, into a suave party going fellow seriously lacks credibility.
Tabu's brilliant portrayal of a woman in turmoil is the only saving grace for the film. She holds the film together with her malevolent manipulations, though her make-up often looked overladen.
Fitoor could have been a grand, epic romance with its visual deftness, opulent sets and soulful music but the characters and story both fall short of delivering what they were expected to.
Watch the trailer here