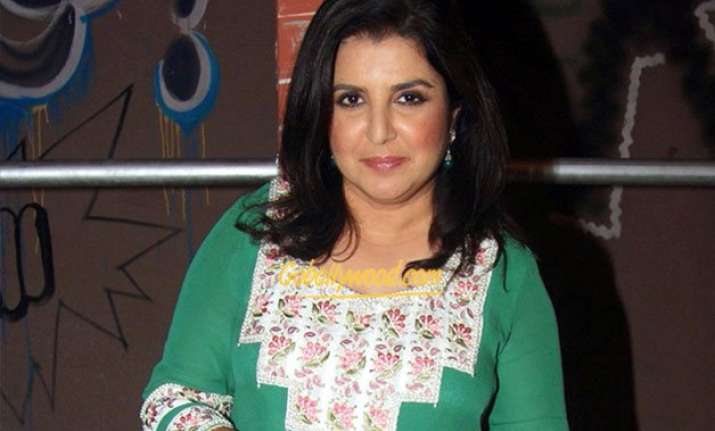 New Delhi: Choreographer-turned-director Farah Khan is all set to start a new year of her life. The bubbly lady is turning 51 today and is a happy camper these days.
Farah is quite known for her 'bindas' and straight forward attitude in the industry. Infact the lady has some really close friends in the industry who don't miss on to pamper her whenever given a chance, like superstar Shah Rukh Khan, Karan Johar, Akshay Kumar and many more.
But success didn't come easy for Farah Khan, who had to work hard to make her and her family ends meet after her father passed away due to alcoholism.  
Married to Shirish Kuner, Farah is a happy-go-lucky person and is enjoying her life with hubby and her three kids.
On her 51st birthday, we bring to you some lesser known facts about the adorable Farah Khan:
1. Farah Khan perfectly proved the saying 'someone trash is others treasure, the axiom'. Her first debut as a choreographer came with Aamir Khan's 'Joh Jeeta Wohi Sikander' after legendary choreographer Saroj Khan walked out of it owing to date issue. She started doing choreography in a local college.
2. Apart from choreography and direction, Farah also have interest in acting is seen doing a cameo in several movies. However her first debut in acting was in Shah Rukh Khan and Kajol starrer 'Kuch Kuch Hota Hai'. She was given the role a girl who makes fun of Kajol.
3. Little did anyone know that Farah is way too petrified about the needles and hence often requested the doctors to avoid injecting her.
4. Not just the B-town celebs, Farah had even made Hollywood celebrities to dance to her tunes. She had choreographed Kylie Minogue in a song called 'Chiggy Wiggy' from the movie 'Blue' starring Akshay Kumar. She had has even choreographed pop singer Shakira for one of the MTV awards in 2006 in New York at Radio City.
5. Farah Khan is the second woman director who was nominated in the category of best director for her film Main Hoon Na.
6. Farah is one of the most multi-talented people in the industry. Apart from being a choreographer, she is an actor, director and was even judge in a couple of popular dance reality shows. She even hosted many TV talk shows.
7. Farah Khan shares her birthday with actor Farhan Akhtar who also happens to be her first cousin.