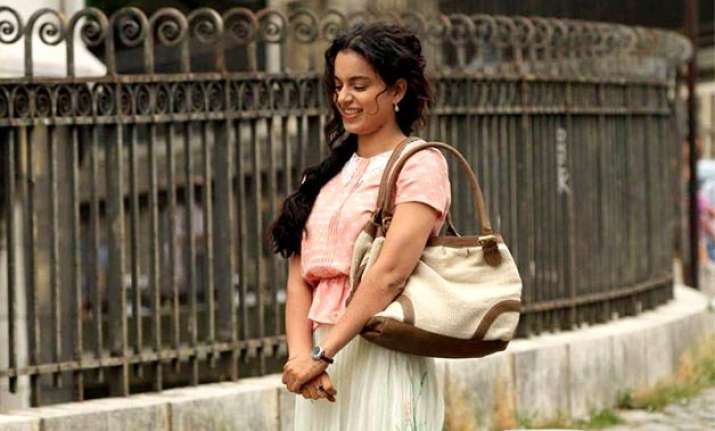 Kangana Ranaut is one of the bubbly Bollywood actresses who have time and again earned praise for her performances from her directors, award juries and also her co-stars.
Despite having unconventional looks, and being written off by Indian journalists due to her "funny accent," Kangana Ranaut has come a long way to become the Queen of 'character driven' cinema.
The filmy career of this Mandi (Himachal Pradesh) based girl was exceptionally thorny and uneven, as at the beginning she was stereotyped into an alcoholic, neurotic woman. However, she quickly realized her strengths and weaknesses and made efforts to turn her negatives into positive.
After understanding that she is not too good as a Bollywood masala potboiler heroine, Kangana chose to tread the parallel path. And on this path she never found any difficulty.
Clearly, Kangana is living life on her own terms and in a sense she is the Queen in the real life.
Here are some interesting facts about her:
Kangana Ranaut faced father's wrath
Kangana's father was not happy with her decision of becoming an actress. After a showdown with her father, Kangana Ranaut was asked to leave the house and the actress obeyed and left without any money. The journey there onwards was not as easy for her.
As per reports she used to live with her friend Jaspreet, who was 10 year elder to her. The report further quoted Kangana Ranaut as stating that she did everything she could do for food and shelter.  While she was staying alone her father came and gave her Rs 50,000 so that she could take care of herself.
However, Kangana did not accept the money and feels that it was one of the most damaging things that scarred her relationship with her father.
The report further quoted Kangana Ranaut as stating that she did everything she could do for food and shelter.
Kangana left college at age of 16
Kangana completed her schooling from DAV model school Chandigarh. She left her college education half way to join Elite Modelling Agency in Delhi in 2003 with the prospect of becoming a model. Kangana was just 16 year old at that time.
Kangana's sister is a survivor of acid attack
Kangna has a younger sister named Rangoli, who was a victim of an acid attack in 2005 by a jilted man. Rangoli was immediately flown down to Mumbai with her parents for treatment and later got married to her fiance Vikram.
She doesn't like watching film
Despite working in the mainstream cinema, Kangana has watched only 10 movies till now.  The actress finds watching movie as tiring stuff and even don't watch television. She would rather read books and listen to music for hours.
Kangana's creative side...
She enrolled for a script-writing course in New York last year but had to leave it halfway to return to India and promote Queen. She does, however, intend to go back there and complete the course. She also experienced the normal life, away from filmi glamour, in New York where she cooked for herself, did her laundry, and traveled by subways.
She wrote her own dialogues in Queen
Yes this is true! Not many people know that Kangana has written and deliver the dialogues of Queen as per her style. Kangana in an interview has accepted it by saying, 'I told Vikas Bahl (the director of the film) that I would like to do the character in my own way. 'My character in the film is someone who doesn't open up, is not confident at all, but later on she transforms herself.
 Kangna doesn't want to be restricted just an actress
She's has written a period film, an assignment for her course and tried her hand at directing a nine-minute short film.  She also intends to direct a full- fledged feature film in future.