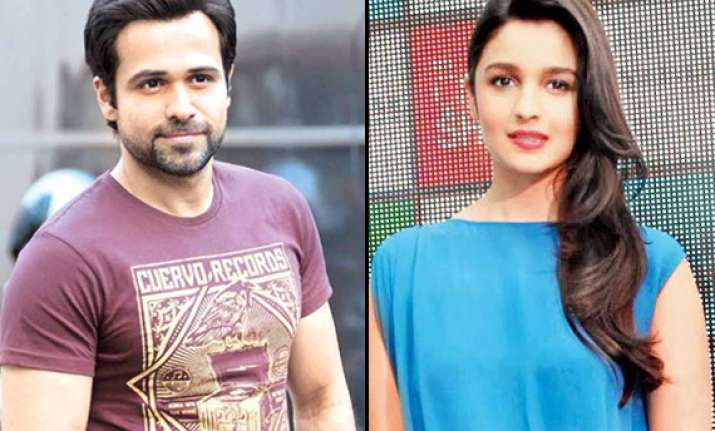 New Delhi: Almost a decade ago Emraan Hashmi created sensation and was crowned as the 'serial kisser' of Bollywood and now it's his cousin Alia Bhatt taking away the coveted title.
Just four flicks old, Alia Bhatt has been immensely giving lip-locks and intimate scene in almost all her flicks and looking at the average, the actress seems to surpass Emraan.
However, the 'Murder' actor worked day and night and gave around three-four flicks a year during the beginning of his career which was all filled with the ample of smooching and lip-locks.
Citing his own example, the actor had a piece of advice for the 21-year old actress who has just entered into the glossy world.
Emraan who will next be seen in Mohit Suri's 'Hamari Adhuri Kahani' in conversation with a leading daily was quoted as saying, "It'll take some time. It's been 10 years for me, and I've done four films a year; that's a huge average, and a humongous run rate. She'll have to play four matches every year, maintain a healthy run rate and work with directors who will force-feed kisses into her films. Also, most actors are not as liberal or just don't want to indulge in [kissing in] every movie. For me, my films just couldn't do without them (kissing scenes)."
Same goes for Alia, as her flicks namely Student Of The Year, 2 States and Humpty Sharma Ki Dulhania couldn't have been accomplished without the ice-melting kisses she shared with her co-stars.
In her debut flick 'Student of the year', the actress not only flaunted her jaw-dropping curves in bikini but also shared her first intimate kiss with co-star Sidharth Malhotra.
After a year's break, the actress was back with over half a dozen of intimate scenes and kisses with Arjun Kapoor in Abhishek Varman's '2 States'.
And with her latest offering 'Humpty Sharma Ki Dulhaniya', Alia has anointed herself as a new female 'serial kisser' of Bollywood.
Having mentioned all that, we don't consider it as a competition with Emraan Hashmi, instead we think that she is just carrying forward the tradition which her family once set as a benchmark in Bollywood.