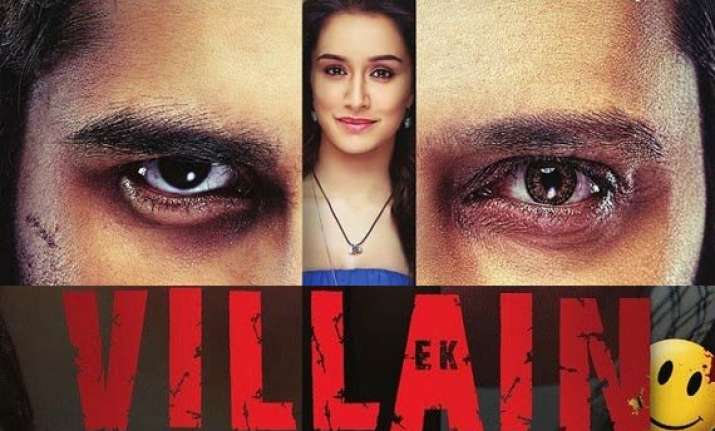 Mohit Suri's musical Ek Villain despite its flaws keeps you engaged with its tempting score and fine performances.

Ratrings-**1/2
Stars- Sidharth Malhotra, Shraddha Kapoor, Reteish Deshmukh
Director- Mohit Suri
Music Director- Ankit Tiwari, Mithoon
Serving its viewers with the dramas mostly filled with romanticism and utterly delicious music like Zeher, Awarapan, Aashiqui 2, Mohit Suri's next outing Ek Villain is rather appallingly intense and dramatically accomplished narration of murder and vengeance despite its innumerable flaws. 
The premise however, is taken from Korean movie 'I Saw The Devil' but nothing more you will find to associate with Ek Villain. While watching this flick you might discover similarities but not for long. Mohit Suri has his own design with necessary alterations. Having said that, this isn't a point one should bother about. 
What bothers are the subplots, which are left to hang in air without any outcomes. Mohit Suri's propensity of narrating the tale, which is more fashionable than his earlier flicks, is quite admirable but there are numerous hiccups, which disturb the flow in an otherwise engaging flick.
The story is mostly narrated in flashbacks. And first allow me to hint you the initial plot. Guru (Sidharth Malhotra) is a silent but callous assailant in Goa working for his boss (Remo Fernandes). He is struggling with his previous aching past and is finding it difficult to come over as it comes haunting him again and again until he comes across this happy-go-lucky girl Aisha (Shraddha Kapoor). She helps bringing him out of his dark times of yore and finally Guru falls in love and marries her. 
They shift from Goa to Mumbai to start a new life but their tender life is given a jolt when Aisha is murdered in a rather suspicious manner. Filled with rage Guru is out for seeking revenge from the murderer. What occurs after he finds the killer Rakesh (Retiesh Deshmukh), Mohit describes an intriguing tale. 
Ending up the comparisons half the way with the Korean movie, Ek Villain needless to say has its own shades. While we have mostly come across numerous emotional revenge sagas, Ek Villain just doesn't ponder over this traditional idea. 
A gangster going far out of his way seeking revenge from the serial killer who murdered his love has a sense of intensity. But the director at numerous moments prefers to enjoy too much of cinematic liberty under the disguise remarkable music and extraordinary performances, which keep your mood up. 
The casual interaction between a fearsome gangster, who pretends to be too harsh and a usual lady, who loves flaunting her irritating humourous  side, is one among many things, which I would have been glad if avoided. 
While you as an audience want to get over them, it tempts our onscreen protagonist. Following this, the biggest flaw, which comes to undermine your psychology is the chain of events of investigation and vengeance. 
The CBI, considered being the most intrepid investigative agency, fears what will happen when Guru pursues finding killer. In one scene the CBI officer says 'government will have to seek more property as after Guru comes in action there will be graveyards all over'. 
Moreover, when they know about the whereabouts of Rakesh, instead of stationing themselves they allow Guru to take his revenge. Also why Guru gratis Rakesh after catching him, is the mystery unsolved. 
But despite all these and many other flaws, Mohit Suri manages to keep its audience engaged in this 2 hours and ten minutes duration, which is more than enough to test your patience. 
The intensity is maintained throughout with Mohit's trademark manner of painting the town with romance going parallel. The carnage by Rakesh isn't chilling but has strength of solemnity. 
Compared to Aashiqui 2, the romantic moments going side by side have more sparks in them and are not exploitative. The cinematography and the picturisation make those moments between Shraddha and Sidharth a visual treat while background score droll you over.
Both thumbs up for the music director Mithoon and Ankit Tiwari who have lent a brilliant music without which the flick would have been tasteless. 
What equally works in favour of this flick is the stars' performance. Reteish Deshmukh tops the chart in our list who delivers villain performance with perfection. After watching him tickling the funny bone one would be shocked to witness his impeccable negative act here. The frustrated and ignored man's character not only in his office but at his home is efficiently played by the actor. 
Sidharth Malhotra, who is just two flicks old, with Ek Villain shows that he possess the efficiency to pull off any character given to him. His expressions suit the intense character, which mostly requires him to give that 'angry young man' look. 
It's again a delight to watch Shraddha Kapoor. She is charming and fills the screens with her lively presence. Her chemistry with Siddharth is perfectly captured by Mohit. 
Aamna Sharif as Reteish's taunting wife is brilliant. Kamaal R Khan, as a personal and professional adviser to Riteish also takes our admiration. 
I'll go with two and a half stars with Mohit Suri's musical Ek Villain, which despite flaws keeps you engaged with its tempting score and fine performances.