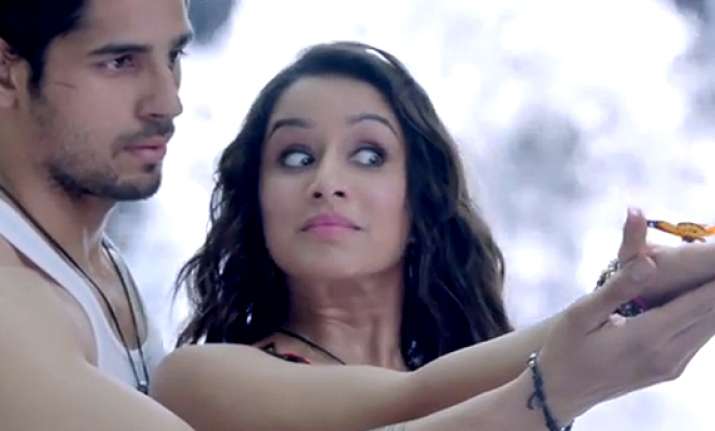 Sidharth Malhotra-Shraddha Kapoor starrer, 'Ek Villain' is out with its much anticipated 'Galiyaan' song.
And the song seems to be a soulful number studded by the melodious voice of 'Aashiqui 2' fame singer, Ankit Tiwari.
'Galiyan' takes stance on the romantic-intense bond between the couple and both the music and the lyrics seem to be doing justice with the mood set by the actors in the song. As it goes in a perfect flair with the lines 'tu meri nendo me sota hai…tu na ho, phir bhi tu hota hai,' the song has got the essence to give you goose bumps of love as you start feeling the intensity of the music.
Both Sidharth and Shraddha look mesmerizing as they spill the mystical charm of their passionate chemistry with 'Galiyan.' Though Shraddha who is playing 'Aisha; in the film seems to have got no transformation from her last 'Aashiqui 2' look, Sidharth has tremendously stole the charm in the song.
The music in itself appears lovably binding and you are assured to delve more and more into it once you start listening to it. A romantic number carving the raw yet innocent camaraderie between Sidharth-Shraddha, 'Galiyaan' fits well where you are searching for a soulful, soothing romantic number.
The film, which stars Sidharth in a bit away-from-the-league role, is already garnering enough eye balls and there was much hoopla created around the song 'Galiyaan' too. And now since the song is out, we give our thumbs up and deem it worth our waiting.
Watch the 'Galiyaan' song from Mohit Suri's 'Ek Villain' here!     
'Ek Villain' has been slated for the release on June 27, this year.