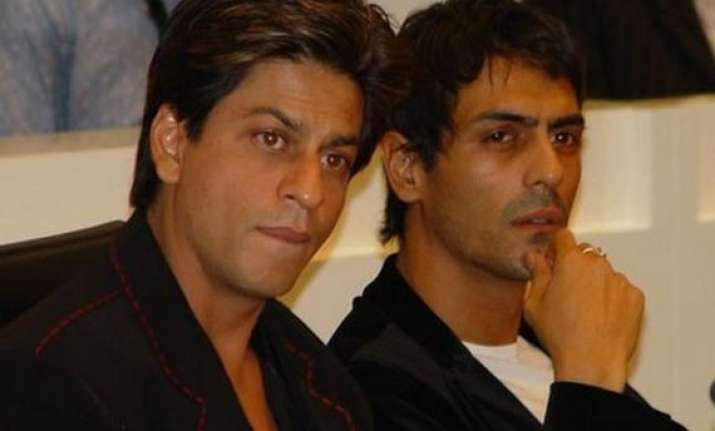 Mumbai: Amid speculations over strained relations between him and Shah Rukh Khan, actor Arjun Rampal
has said that he never harbours any grudge against anybody in his life.
Buzz in Bollywood is that SRK and Arjun, who were once best buddies, have fallen out after the release of 'RaOne' (2011), which happens to be the last film they were seen together.
The cold war started after Shah Rukh reportedlytrimmed Arjun's role in the film which was the former's home production. Arjun was conspicuous by his absence at Shah Rukh's residence 'Mannat' in suburban Mumbai where the superstar had recently thrown a Eid party.
However, Arjun's wife Mehr Jessia, who is Gauri Khan's close friend, made up for her husband's absence as she dropped in for the event.
"
People should get their facts correct. I would have loved to go to Shah Rukh's house but I was really stuck in work. But my wife did go for it, and that's it," Arjun told PTI in an interview.
When asked about his equation with SRK, Arjun said, "I don't hold a bone of grudge against anybody in my life". On Prakash Jha's 'Satyagraha', Arjun said the role had been offered to him during the making of Jha's earlier film 'Chakravyuh'. "He (Prakash Jha) asked me if I do this part as it is not that a bigger role but he needs this character. I told him even if you want me to say two lines in your film, I will
surely do it," Arjun said.
The actor revealed how this "small" role eventually became an "integral" part of the film.  "While writing the character, it became a full-fledged part. He (Prakash Jha) realised this guy is going to be integral part of the screenplay. We need him as this is the character that influences. He is a youth leader who is ambitious.
"He is connected at grassroot level. He becomes the muscle power of this revolution," Arjun said explaining his role. Arjun is playing the role of a strong socially committed youth who becomes a politician.