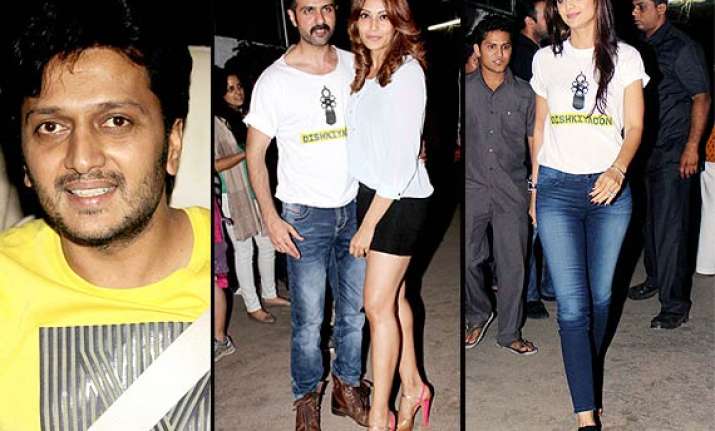 Harman Baweja-Sunny Deol starrer 'Dishkiyaaon,' which is in news due to its association with sassy Shilpa Shetty had a special screening held recently.
While Shilpa Shetty arrived with her family, the highlight remained Harman Baweja and her official lady love, Bollywood starlet
Bipasha Basu
.
Both Bipasha and Harman, who recently confirmed that they are in a relationship, gave a appearance together at the screening of the film. The duo was also rumoured to have been engaged when Harman was spotted with a ring in his engagement finger with Bips at a recently held Dishkiyaaon party.
While Shilpa mesmerized with her little dance jig as she entered the place, she was accompanied by hubby Raj Kundra, sister Shamita Shetty and her parents. Ayesha Khanna, who is debuting in Bollywood with 'Dishkiyaaon' arrived in a see-through black top that she teamed up with a white pencil skirt.
Apart from the cast and crew of the film, actor Riteish Deshmukh too attended the screening of the film. Sunny Deol, who also features in the film as a prominent character was however missing there.
Take a look at the following pictures to know who all grace the screening of 'Dishkiyaaon!'
Shilpa Shetty's younger sister, Shamita Shetty arrives to attend the screening of 'Dishkiyaaon.'
Shamita arrived with parents at the place and looked ruffled and dizzy. Not happening it was!
Shilpa's husband and famous entrepreneur Raj Kundra arrives at the screening to support the wife.
Shilpa and Raj have produced the film and Shilpa has also done a sizzling item number in the film.
Shilpa Shetty's mother and father arrives with daughter Shamita Shettty.
Ayesha Khann, who has debuted in Bollywood with 'Dishkiyaaon' looks simply pretty in that see-through top and a white pencil skirt.
Famous designer Rocky s too arrived at the special screening of 'Dishkiyaaon.' He looked dapper sporting a very casual look.
Actor Riteish Deshmukh arrives at the screening in that bright yellow t-shirt.
Ayesha Khanna poses with a friend. 'Dishkiyaaon' has been slated for release on March 28.