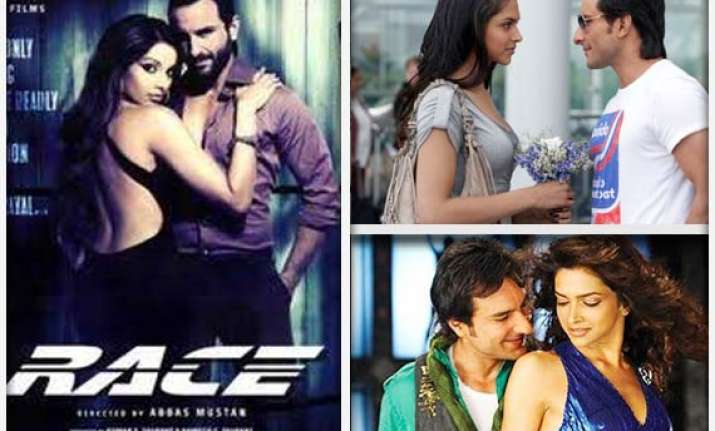 Mumbai, Nov 23: Bollywood star Deepika Padukone has reportedly agreed to do a steamy scene with co-star Saif Ali Khan in Race 2, HT reported.

The report said,  Deepika consented to a hot scene for the first time in her career after  much deliberation.She

apparently had a long meeting with the director duo Abbas-Mustan, but still took her time before agreeing.

Says Deepika: "It's (the steamy sequence) just a part of the film. And I don't think there is any need to sensationalise it. After all, it comes with the script. I don't treat it differently from any other scene in the movie," she clarifies.

In the past, Deepika had done hot scenes with her then-boyfriend Ranbir Kapoor in Bachna Ae Haseeno (2008), Saif (Love Aaj Kal, 2009) and Imran Khan (Break Ke Baad, 2010).

"What I am most excited about is that I have finally started shooting for Race 2," says Deepika, refuting talks that the film is running late due to her promotional commitments for Desi Boyz.

"I don't know. I was required for five days initially, which I have already done," she responds.

In the original Race (2008), Saif had shot for a much-hyped steamy scene with Bipasha Basu. At that time, Bipasha too had stated that, "it's just work" , though apparently her then-boyfriend John Abraham wasn't too happy.

Deepika will also show off her action moves in the sequel.

"Yes, I have some action sequences, including car chases and jumping off buildings, but they aren't fighting scenes. I'd love to do a full-on action movie, though I haven't yet had a chance to," she admits.

Meanwhile  ex- Ranbir Kapoor's Rockstar act has moved Deepika to tears.

"Anyone would get emotional after watching Ranbir's performance. I can't explain what I loved the most. Maybe I connected with the way it was written and performed," Deepika says, adding she didn't see Katrina (Kaif) at the screening, as reported by a tabloid.

Interestingly, director Imtiaz Ali had given her a narration almost a year-and-a-half ago. Deepika stars with Ranbir in Ayan Mukherji's Yeh Jawaani Hai Deewani that starts shoot in January next year.