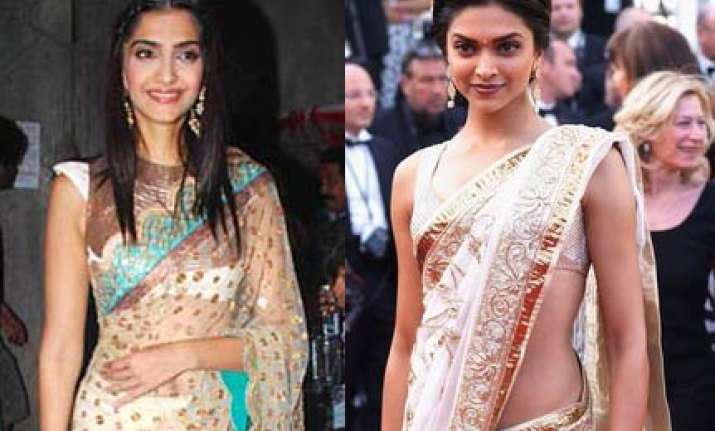 Ranbir Kapoor's ex-girlfriends, Sonam Kapoor and Deepika Padukone, have avoided each other in the past. The two women did not want to share space for the cover shoot of a fashion magazine. But that is passe, both are going to share screen space in Koffee With Karan, reports Mumbai Mirror.
Not too long ago, Sonam, who was close to Ranbir during the days of Saawariya, turned down debutant Vicky Singh's film Mera Jahaan, which also starred Ranbir and Deepika.
That Mera Jahaan finally never took off, is another story altogether. But what we are certain about is that during that time, Deepika and Ranbir were in a very steady relationship.
Meanwhile, when Eros International approached her for it, Sonam recently refused Rohit Dhawan's film Desi Boyz, again starring Deepika as one of the female leads.
Apparently, Sonam didn't really want to get over the fact that Ranbir had moved on from her to Deepika.But now,
Karan Johar
has managed to do the unthinkable: he has brought the two actresses together on one platform.
Deepika and Sonam will appear together for the first time on one of the episodes of the forthcoming season of Koffee With Karan. Apparently, the two actresses have made up.You wonder if this has happened because Deepika is no longer dating Ranbir.
Of course, Karan, who in the past has patched up
Aishwarya Rai Bachchan
and
Shah Rukh Khan
and later Shahid Kapoor and Kareena Kapoor, must have had a role to play in this. But we are not saying anything.All's well that ends well.
Fazila Allana, production MD of SOL, which produces Koffee With Karan, confirmed and said, "Yes. Deepika is coming with Sonam. We always wanted these two together on Koffee With Karan. And that's happening. The two girls will shoot for the episode very soon."On being asked if the two actresses have resolved their differences, Allana added, "That I don't know."