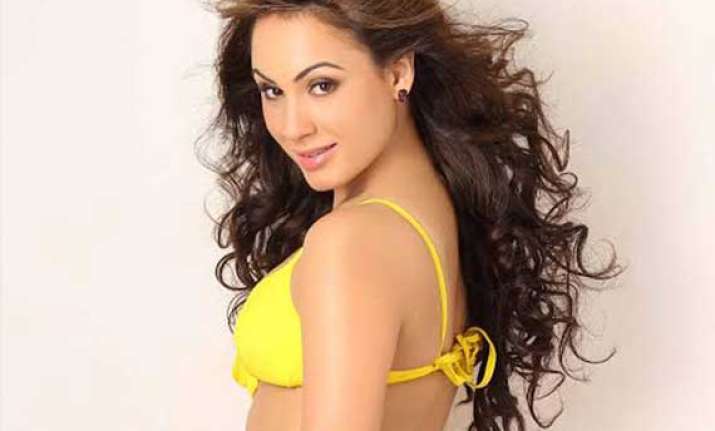 News Delhi: Winner of beauty pageant Miss India UK 2012 Deana Uppal, who is the recently evicted contestant from stunt-based reality show "Khatron Ke Khiladi", had her eyes set on Bollywood since her childhood.
"I have been coming back and forth to India for sometime now. My parents were born in Punjab, so I feel India is home to me. I have always loved Bollywood since a young age, so I decided to work here as I enjoy the industry here more than Britain," Deana told IANS.
The actress, who made a special appearance in "Revolver Rani", is working hard on her Hindi diction. She has a few films on her plate now too - the 24-year-old will be seen in Yogesh Mishra's directorial debut "Life Non Veg", starring alongside Siddharth Bhardwaj of "Spitsvilla" fame.
"I am currently working hard on my Hindi and will continue to work in films this year and just take as they come. I have always been interested working in the film industry here. I feel more at home in India and I find Bollywood movies beautiful and exciting," she said.
Item songs are not the centre of attention for Deana, but if offered, she will happily accept them.
"I will be shooting an item song next week. Item songs are not my main focus but I feel if the song and production team is good enough, then there isn't any problem doing one," she said.
Talking about her experience on "Khatron Ke Khiladi 5", the model-turned-actress said it was glorious, but facing insects on the show helped her overcome her fear of the creatures partly.
"I had an amazing experience. I got to do things I never would have been able to experience without being on the show. A biggest fear of mine has always been insects. On the show, I stayed inside a plastic bag with cockroaches and other horrible insects for eleven minutes.
"I feel proud for overcoming that fear the most," said Deana, who went to Cape Town for the shooting of the celebrity show, hosted by filmmaker Rohit Shetty.
Due to their physical strength, boys on the show were Deana's major competitors and she feels contestant and dancer Salman Yusuff Khan has a fair chance of winning.
"I always found that boys had an advantage in this show because of their physical strength. I'm sure all the boys will be left in the final. Salman has a good chance of winning," said the actress, who lasted for only eight episodes of the show since her wildcard entry, but managed to make friends during her short stint.
"I befriended Teejay Sidhu, Debina Bonnerjee, Gauhar Khan and Ajaz Khan on the show. Ranvir Shorey wasn't welcoming to me and was quite rude, but he apologised to me in the end, so all was fine," she said.
Deana was also a part of Britain's reality TV show "Big Brother" 2013.