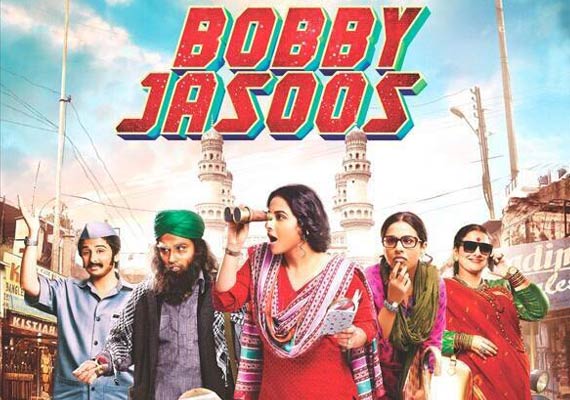 There is no denying that Bobby Jasoos has flaws but its heart is at the right place with right amount of emotion and fun.
Rating: ** 1/2

Cast- Vidya Balan, Ali Fazal, Rajendra Gupta
Director- Samar Shaikh
Music director- Shantanu Moitra

Bobby Jasoos, apart from focusing on the minor details of investigating a case, has everything, which makes a movie a light hearted entertainment. Emotions, drama, witty humour, love story and suspense that is easier for you to guess than our leading lady detective.
While a bit perplexed and yet–to prove female protagonist is desperate to grab a case so as to fulfil her unaccomplished dreams, we as viewers find an instant connectivity with this character and her curiosity, which resembles our inner feelings.
Debutant director Samar Shaikh mostly uses the innocence of its character and the beauty of unexplored Hyderabad throughout. Bobby Jasoos isn't entirely the detective drama but is a feel good flick, which underpasses through the investigation case.
However, among the scriptural errors this detective case takes a toll. It opens in Hyderabad where Bilkis Ahmed aka Bobby is trying her luck hard to get a break in detective field. Numerous antics she has tried already but none of them has impressed her boss.
She opens her own company with the name 'Bobby Jasoos Pvt Ltd'. And guess what?  She gets one case. A mysterious client (Kiran Kumar) provides her one after another assignment of finding missing girls. Amidst all, there is romance brewing between Bobby and Tassavur (Ali Fazal), a TV journalist who takes her help to get rid of marriage proposals, which his family in throwing over him again and again.
But will Bobby be able to fulfill her dream of becoming the number one detective in town, is the big question, which is yet to be answered.
It doesn't come as a surprise that she accomplishes the task given but that is one of the flaws. Attempts to solve the mystery don't look mysterious enough and melodrama drama takes the unnecessary space. Yes, I appreciate director's attempt of making a woman oriented film in the world which is mostly dominated by men. But to support it there is hardly any concrete phenomenon.
Why does Bobby's father (played Rajendra Gupta) accept her after all the heated arguments? Does she finally become a detective? What is the outcome of Bobby and Tassavur's love story? There are many more questions, which are left hanging in air.
But despite that, the flick delivers the essence of free-spirited and free-wheeling life of Bobby.
Bobby just doesn't live her dream but takes it as an attempt to prove her worth to her father and others who snubbed her. The liveliness, which she possesses, is justified.
Yes, the numerous makeovers she dons in order to solve the puzzle sometimes look non-feasible but they bring necessary smiles on our eagerly waiting to laugh faces. Like this the humour has numerous shapes here among which the romance between Bobby and Tassavur too delivers small little chunks of hilarity. It has an unusual but authentic finesse, which is rarely seen in Bollywood flicks.
Accompanying them is a tempting tour of the city, Hyderabad whose lanes weren't explored with such delicacy in any flick before. Cinematographer Vishal Sinha proves his proficiency by sketching the town which includes all the necessary colours and joviality of the Hyderabad.
They are all as delicious as the trademark Hyderabad Biryani, which is also given an amusing and mouth-watering mention. The performance wise, it's needless to mention, Vidya Balan adds another feather in her cap.
If Ghanchakkar and Shaadi Ke Side Effects proved her declined scale of act, Bobby Jasoos overshadows them all and brings out her much refined performance this time.
Ali Fazal walks shoulder to shoulder with Vidya who otherwise steals the show from all. But Ali still manages to never let her take his share of admiration.
Rajendra Gupta is one actor who couldn't be ignored. As a conservative father of Vidya, he excels.
Shantanu Moitra's music and background score is wonderful as they blend perfectly with each passing scene.
I'll go with two and a half stars for Bobby Jasoos which has flaws but its heart is at the right place. Watch it if you are a Vidya Balan fan for she won't disappoint you.