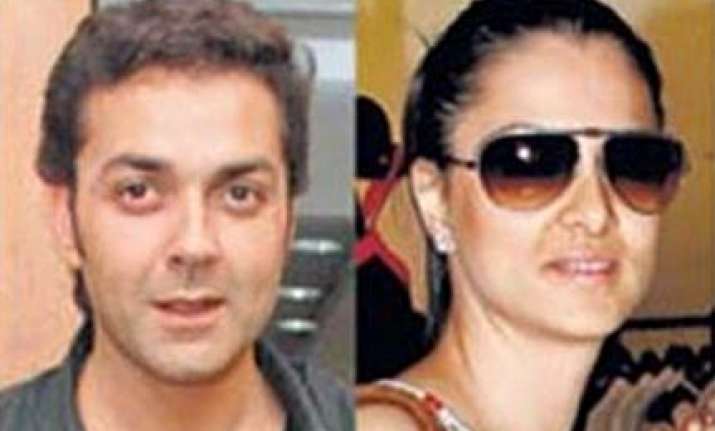 Bobby Deol's father-in-law Devender Ahuja who was recently in the news for leaving a large chunk of his fortune for Tanya Deol, has passed away.
A day before banker and promoter of Centurion Bank and MD of 20th Century Finance Devender Ahuja, 74, passed away, son-in-law and actor Bobby Deol was shooting  in  Toronto with buddy Akshay Kumar for Anees Bazmi's Thank You.
Deol was unable to concentrate on his shoot  because he was concerned about his father-in-law's health, says a media report.
Filmmaker Samir Karnik, a family friend, says Deol was expected to shoot a love song this week in Agra. "Bobby has been concerned about his father-in-law's health ever since the  property dispute erupted."
Ahuja had apparently disinherited his son Vikram, and wanted to leave a large chunk of his fortune to daughter Tanya and son-in-law Bobby Deol. After I-T officials raided Ahuja's Nariman Point residence and office on May 10, they recovered documents that proved that Ahuja had transferred a major part of his property to his daughter. The public dispute left the Deols in an embarrassing position.
Deol told close friends he didn't want to be part of the wealth dispute.
Says a close family friend, "All he ever wanted was for  peace in his wife's  family, and  his father-in-law to be  healthy."
When news of Ahuja's illness reached Deol in Toronto, he wanted to return. Kumar who has connections in Canada made arrangements for his return.
Ahuja died of a cardiac arrest on Saturday morning. Deol was expected to return to the city on Saturday night via London. The funeral is expected to take place on Sunday.