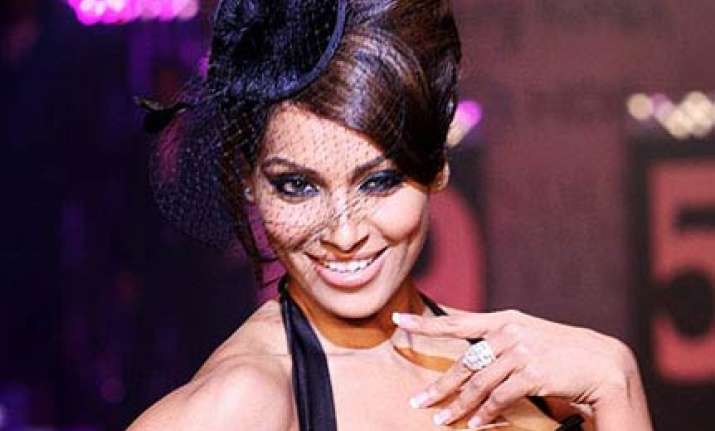 Bollywood actress Bipasha Basu recently refused to board a chartered plane with her Aakrosh co-stars three months after her bad experience that had left her shaken.
Instead the actress opted to travel economy class with her staff on a regular airline, says a media report.
The report says, Ajay Devgn, Akshaye Khanna and producer Kumar Mangat  travelled from Mumbai to Nagpur and to Jaipur for the promotional activities of Akrosh in a specially chartered six-seater Cessna while Bipasha joined them in Jaipur by flying a well-known airline.  The actress avoids small chartered flights as they are not as smooth as large aircrafts.
Says Mangat, "We decided to return to Mumbai in the same aircraft. I requested Bipasha to travel with us, but she flatly refused. She said she already had a bad experience when we had travelled from Diu to Mumbai this July. Ajay terrified her then by making jokes about the plane crashing."
The producer says Devgn tried to persuade Bipasha to join them in Jaipur this time but she said she had sworn never to travel in a small aircraft again.  
"So while we left Jaipur on Monday morning, Basu stayed back in the hotel and left in the evening." Bipasha says, "I am a nervous flier and hate travelling in the monsoons because rough weather is at its peak then. On Monday, it was raining in Mumbai and there was turbulence, so I am happy I didn't travel in the Cessna. Ajay and Kumarji told me that there are perks to travelling in a chartered flight but I prefer normal aircrafts.  They had even saved me a seat but I came back with my staff."
The actress adds that she was so tired that she didn't care what class she was in. "I slept through the flight. I had gone to sleep at 2 am and woken up at 4.40 am, so was completely sleep deprived."
In July, Ajay Devgn decided to return to Mumbai from the film's shoot in Diu in a chartered flight with Robin Bhatt, Priyadarshan, Reema Sen, Bipasha and a crewmember, George.  
Bipasha had been reluctant as she has a fear of small flights and has avoided them for nine years. The flight ran into rough weather and they were thrown around in their seats. Bipasha panicked and kept chanting the Gayatri Mantra to calm her frayed nerves.