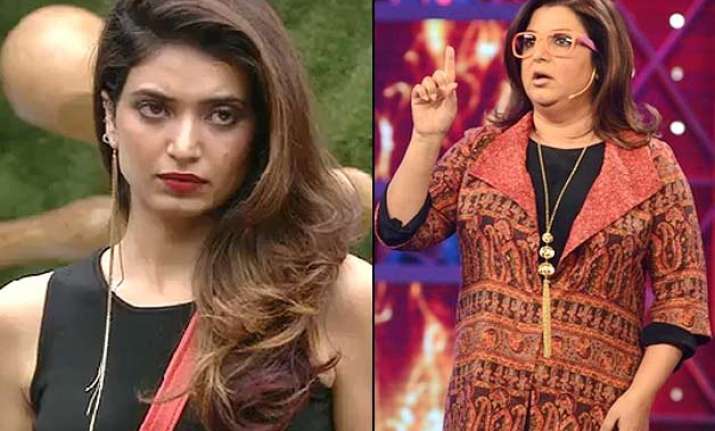 New Delhi: Bigg Boss Weekend Ka Halla Bol started with ever-so-strict Farah Khan. The new host left no escape in grilling both the champions and the challengers, mainly Karishma Tanna due to her overtly rigid attitude towards Rahul Mahajan.
Farah acknowledged the blooming relationship between Karishma and Upen and coined 'Upma' as a collective name for both of them.
Although Khan was in her full form to extract hidden matters, it was actually great to watch her throwing direct questions to the contestants inside the Bigg Boss 8 house. In a tiny chunk shown in the starting of the episode, Mahek was seen digging about Karishma and Upen's relationship to Upen. Upen was more-than-sweet claiming that his feelings for Karishma will never change, even after if they happen to be marrying each other.
Karishma was also shown washing Upen's laundry and Pritam doing a funny commentary over the entire issue. Later, Farah took a hilarious jive at the alleged couple through two flowers, singing 'Aaj Kal Tere Mere Pyar Ke Charche…'
She also teased Gautam over Ali's fun tactics towards him. Then, as Farah asked whom will Rahul give his winning money if he gets to win the show, Rahul took Pritam's name stating that he is a family man.
The witty host asked the housemates about who would they like to erase from the house if direct eviction takes place, and quite astonishingly Karishma's name emerged as four contestants took the lady's name.
Karishma was then made to stand inside the witness box to answer rather logical queries by Farah Khan. As Farah started firing her questions, the first question happened to be about Gautam.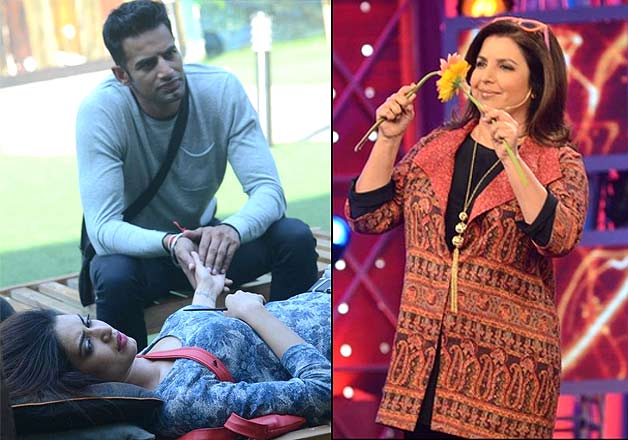 Karishma was asked that why did she nominate Dimpy over Gautam when it is Gautam who she has been taking her prominent rival since always? In her defense, Karishma stated that she had no valid reason to nominate Gautam whereas Dimpy gave her a strong reason to nominate herself for the 'tabadla.'
Further, as Farah moved on, the next question happened to be that why did Karishma take a stand only after Upen's arrival while Rahul was acting flirtatious for many days? And like always, Karishma couldn't justify her point as she stated that she was acting sporting to Rahul's 'loose comments' and it was only when she witnessed Dimpy crying because of Rahul that she decided to take a stand.
Farah cleared the entire air by saying that it was Rahul who was made the target in this whole issue and he is the only one who deserves applause for the way he tackled the matter.
Dimpy blamed Karishma of being 'too creative these days.' Further, Farah asked the lady in the witness box that why she took Rahul's name when she is claiming that it was Dimpy who told her everything about their (Rahul-Dimpy) relationship to her.
Karishma's vague replies couldn't justify any of her stances taken against Farah's arguments.
Farah then once again applauded Rahul for being too calm in the entire issue as he didn't utter a single 'below the belt' comment on the show. When asked about should Karishma have taken these issues in the task, Upen completely denied saying that even he told the lady that she should not have gone to that extent.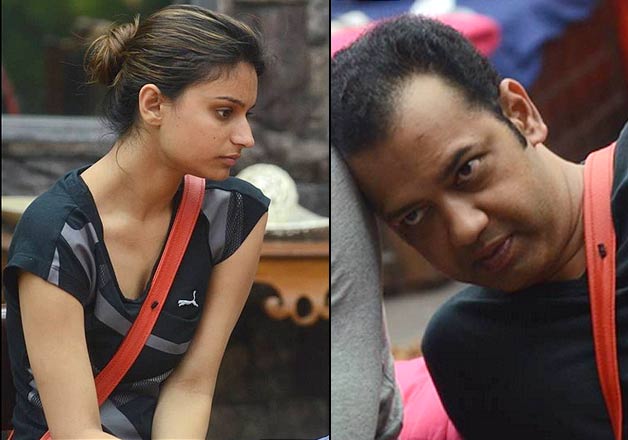 Later, Farah asked that why she 'felt good' at the end when she had lost the task. Karishma then played diplomatic and could not answer clearly. Farah made her understand that she was not doing the task but pealing out her personal grudges against Rahul.
The host also blamed Karishma that she has suddenly become too conscious of her image after Upen has arrived in the show. Adding to her argument, Farah even said that Karishma was even enjoying the special attention given by Rahul as she was evidently enjoying Rahul's flirt before Upen came back in the show.
Moreover, the host cleared what 'loose comment' actually means, explaining that Rahul saying 'main 6 saal se piche pada hun' is not a loose a comment but a compliment for Karishma.
Dimpy again confessed that if there are reasons for separation between her and Rahul, none of them comprise that Rahul was an unfaithful husband ever. The Bengali actress further went on by saying that it was her foolishness that made everyone target Rahul in the entire issue.
Later, when asked, Karishma stated that Dimpy broke the rule by not sitting with the team and thus she thought her name as apt for 'tabadla.'
Farah further ended the show by saving Rahul from the eviction of the week and kept the decision of eviction lingering between Sana and Sambhavana for today's episode.