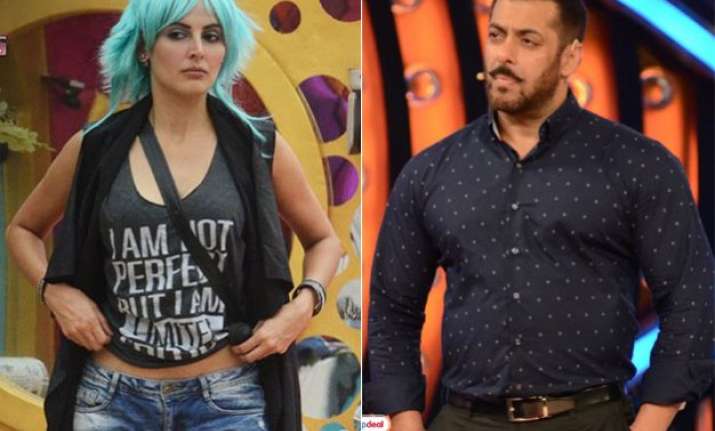 New Delhi: Bigg Boss 9 is nearing its end with only five contestants left on the show. In the Saturday episode, wild card entrant Priya Malik was 'airlifted' by Akshay Kumar, bringing curtains to her stint in the Bigg Boss.
Now, the race for the winning trophy is in the final lap and every contestant is trying his/her best to reach the pinnacle. But, it's going to be audience who will take the final decision on the winner. The viewers are the king maker as their votes will only decide the fate of Top 5 contestants on the show.
So, before the Grand Finale episode, we decided to conduct a poll on Twitter asking the audiences about their favourite contestant. They had to choose between Prince Narula, Keith Sequeira, Mandana Karimi and Priya Malik (before eviction).
And the audiences have declared Iranian beauty Mandana Karimi as the winner of the show. With 35% votes in her favour, the lady is at the top rank in the India TV Poll.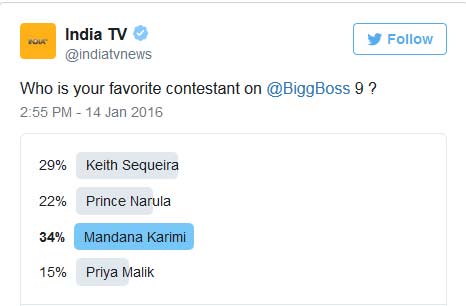 Mandana is followed by Keith Sequeira who got 29% votes in his support. Prince Narula is at 3rd rank with 22% votes while Priya Malik got the last position with only 15% votes.
It is not the final result of Bigg Boss 9, but it is indeed a little glimpse of audiences' preferences. The actual results will be announced in the Grand Finale episode on January 23rd.
The Top 5 contestants who are now competing for the trophy are Prince Narula, Keith Sequeira, Mandana Karimi, Rochelle Rao and Rishabh Sinha.