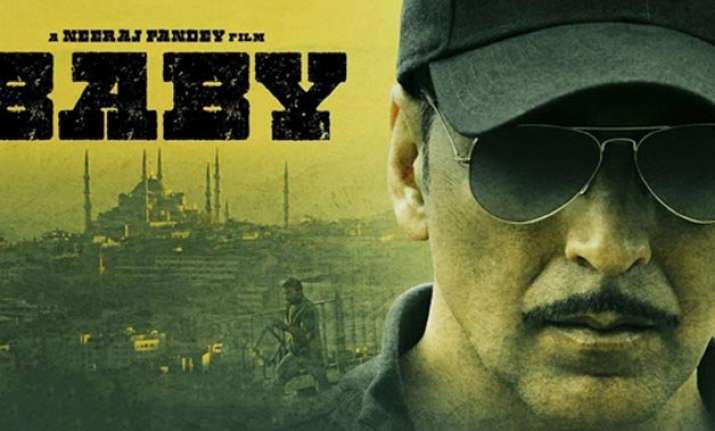 Neeraj Pandey is one director whose dramas are untouched with the masala content as he always endeavors to make a quality project.
Film: Baby
Cast: Akshay Kumar, Tapsee Pannu, Anupam Kher, Rana Daggubati, Danny Denzongpa
Director: Neeraj Pandey
Baby alike his A Wednesday is gripping, intriguing and above all is fast-paced and entertaining. It doesn't go overboard with patriotism feature however; the movie has such scenes in abundance.
Its after his 'A Wednesday' that the director once again touches the terrorism section with perfection and nails it with its accurate execution. Its no non-sense but investigative serious fight against terrorism which is regularly haunting our nation. Despite accepting its gripping and hardcore content, what we think could invite trouble for the flick is that it reflects too many realities. 26/11 attacks, Ajmal Kasan, Indian Mujahideen and their leaders' names are blatantly used to make it look authentic but what director forgets on the other hand is the counter terrorist team BABY which is dealing with attacks is unreal.
Also read: 'Dolly Ki Doli' and 'Baby' all set to clash at box office (see pics)
Had BABY been declared a fictional work, there won't have been a problem for its acceptance. Yet besides, these small glitches BABY dares to go beyond the limit of portraying terrorism on screen. It goads by making a point that while America executed their plan to kill the 9/11 mastermind in Abbottabad, here our politicians could just make loud promises in meetings and conferences.
During watching such scenes filled with blatant remarks, there is a fear of backlash the movie could get as and when it becomes popular. But if there are such scenes of mocking, there are others which questions over the quality of return the brave heart soldiers get for sacrificing their lives, there are questions as to why IT students get lured to join terrorism.
It's not so that we feel for them, as the movie is not just meant to be. BABY without much emphasizing just gives its prominent opinions while its mission is set.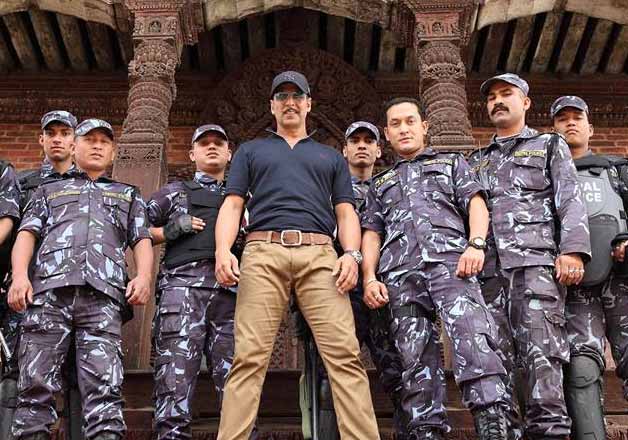 The mission is led by Ajay (Akshay Kumar), one of the best from the defense forces, chosen to lead a secret Counter Intelligence Unit called BABY to prevent terrorist attack in India. His team includes Priya Suryavanshi (Tapsee), Jai Singh Rathore (Rana Daggubati), Om Prakash Shukla (Anupam Kher) among others. On his verge to abort the terror attack, Ajay discovers a major threat to the nation - a plan to cause damage and strike fear in the heart of the citizens. The plot is masterminded by a maniacal leader Maulana Mohammed Rehman (Rashid Naz) whose organization has its tentacles spread across the world.
BABY which was set up after 26/11 attacks just for five years is now on its last mission. What gives this mission a realistic touch is its fast-paced execution and minute detailing by Pandey. The covert and courageous operations are dealt with delicacy and Neeraj under it takes us with him to Kathmandu, Istanbul, Abu Dhabi, Delhi and Mumbai where the attacks are linked. Istanbul and Abu Dhabi with the help of cinematographer Sudeep Chatterjee look different. The deserts's atmosphere glows more during night when kissed by the moon's light. But the extended shots of such scenic scenes is also the reason for making this movie unnecessarily over 2 hr 50 minutes long however, it doesn't have any more non-essential sequences which spoils the flow. It also wastes no time for displaying the longing between Ajay and his wife (Madhurima Tuli) who rarely meet, there are no moments to grieve when Ajay's team dies in a blast,
Also read: 'Baby' intends to spread awareness about terrorism: Akshay Kumar
BABY is packed with back to back action scenes and with brilliant score by Sanjoy Chowdhury it builds the necessary suspense and thrill around. Stunts are raw with Khiladi Kumar who goes back to days when he attained this title. He after Special 26 and Holiday once again is in his best form. He shows the discipline required and gives a fantastic performance.However, we wish other actors could have also been given more meaty role like him. Anupam Kher, Kay Kay Menon, Tapsee Pannu look like are here for just their cameo appearance.
Big surprise comes from Tapsee Pannu who beats down a terror suspect displaying her fighting skills, Rana Daggubati as a strongman of the unit gives a balanced performance. Anupam Kher, as a techie of the unit is good while his love-hate chemistry with Akki is wonderful. Danny Denzongpa as the Chief of Undercover Unit is great as well.
I'll go with three stars for BABY. It's another feather in Neeraj Pandey's cap. And it couldn't have got more better time than releasing around Republic Day.