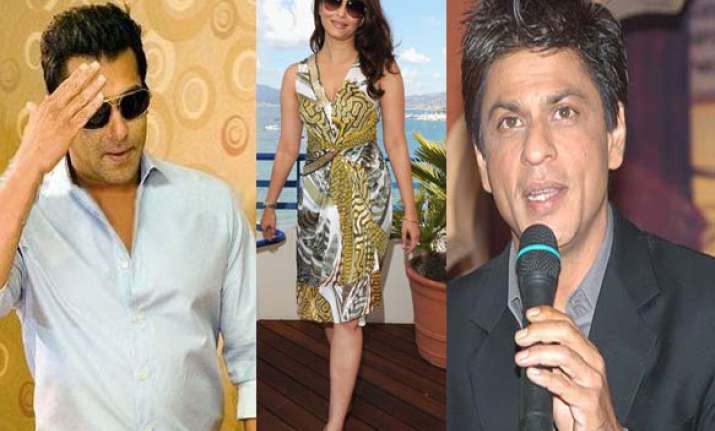 Mumbai, Jun 7 : The Bachchan parivaar, Shah Rukh Khan and Salman Khan may come face to face at the big fat Reddy wedding scheduled to be held in Hyderabad on June 10, says a media report.The Reddy wedding (Mallika to Siddharth) promises opulence and star presence. 

The high-profile guestlist not only boasts of business honchos like Mukesh Ambani but also B-Town stars like the Bachchans,Salman Khan and Shah Rukh Khan.

And if everything goes as planned, Aishwarya Rai Bachchan might just come face-to-face with Salman Khan at the wedding festivities for the first time in years.

Salman is very close to the Reddys (Mallikas parents Pinky and Sanjay) He will surely make it to her wedding.

Even Abhishek,Aishwarya and Amitabh Bachchan are slated to come to the city, confirms a source.

Old rival Shah Rukh Khan too,who avoids crossing paths with Salman Khan,might also be put in a spot.

Salman will be in Hyderabad on June 10. The flight back to Mumbai leaves on June 11, but in stead of going back home, he will take a detour to Vishakhapatnam, where a Celebrity Cricket League match will take place, says an actor close to Salman, who is also invited to the wedding and who will accompany Sallu to Vizag.

These days, Salman does not care who he bumps into, says the report.He wants to be present to celebrate each moment of Mallika's special day.Chartered flights have been arranged to ferry the guests from Mumbai to Hyderabad and back.The first flight from Mumbai will leave at 10.15 am and the next at 3 pm on June 10.

The RSVP team, meanwhile, has ensured that all chances of any uncomfortable situation will be thwarted at Mumbai airport itself.None of the stars who share an uncomfortable past have been put on the same flight.Moreover,the stars themselves have asked their managers to check who else will be on the flight.

While the buzz was that SRK was supposed to shake a leg at the celebrations, sources confirm that Shah Rukh might not dance after all.