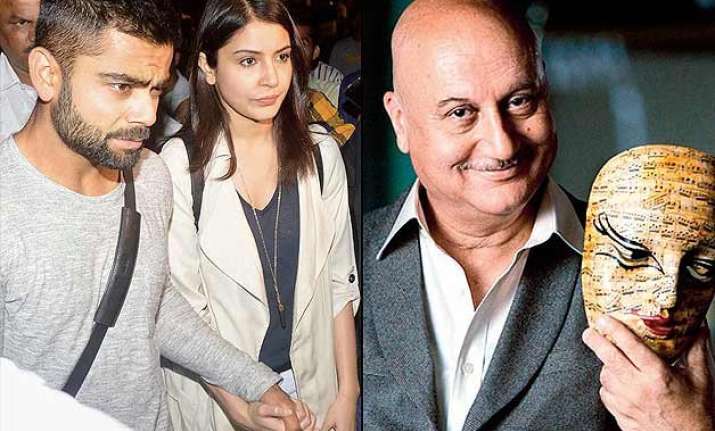 Anushka Sharma Virat Kohli to grace Kuch Bhi Ho Sakta Hai first episode
New Delhi:
  Anushka Sharma and Virat Kohli are one power couple. And when a couple like this gets associated with another power-packed something, the stage is set to get bigger.
With Anupam Kher's popular show 'Kuch Bhi Ho Sakta Hai' returning for its second season, both Virat and Anushka might grace its first episode.
Considering that the show this year would have various prominent names from several walks of life, the couple too is likely to register its presence. Both Anupam Kher and his show have carved a wonderful instinct in the television world by making the audience feel more close to their favourite stars.
Faces like Akshay Kumar, Anil Kapoor, Shah Rukh Khan, Parineeti Chopra, Sonam Kapoor and Kapil Sharma among many others have made it a point to reveal a lot about themselves on the show.
And this season, celebrities from other fields, besides showbiz will also be seen sharing their life stories on the show.
With Mr. Kher making sure to have a hold on the emotional nerve of the celebs gracing the TV show, we wonder Virat and Anushka together would spill a great enchant!
In his official statement to a leading daily, Raj Nayak, CEO, Colors, claimed that they are planning a bigger everything this time. "As we put together our energies for the new season of the show, our endeavour will be to create a comfortable setting for the celebrities to share interesting anecdotes from their lives which propelled them to achieve the goal they had set for themselves. Preparations are in progress to present a stellar line-up of celebrities whose tales will leave viewers spellbound," said Nayak.
Earlier too, cricketer Yuvraj Singh has opened a lot about his battle with Cancer on Anupam Kher's show. And this time, it is evident how sour were the situations for both Virat and Anushka as Team India lost the World Cup 2015.
Considering the couple stayed strong during the tough times and faced the world together, the story of their perfect bond would definitely be a motivation for many other couples.
Well, let's not lose hope to witness this 'power couple' on this inspiring show as it itself says - 'Kuch Bhi Ho Sakta Hai.'