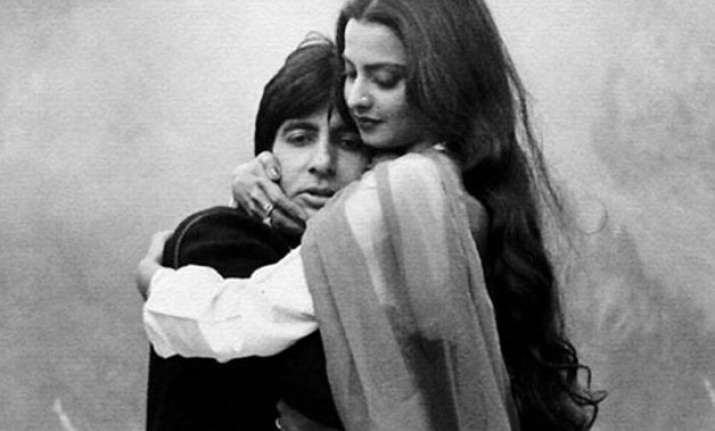 New Delhi: B-Town has been a witness to several love affairs and break-ups. While some of the celebs are quite open about their personal life, there are some who prefer keeping their relationships under the wraps.
And this is not happening just today. In fact, it has been age old trend that celebs keep mum about their affairs and kept the tongues wagging.
But as they say, 'ishq aur mushq, chupaaye nhi chupta' and so was the case with megastar Amitabh Bachchan and Rekha whose love affair still creates a stir in the industry despite being ended decades ago.
While everyone knew how madly Rekha was in love with Big B, there wasn't any official announcement of their relationship. However, their affair was always the talk of the town.
But, Amitabh Bachchan's direct denial of his relationship with Rekha did raise a lot of eyebrows. While everyone was expecting Rekha to be furious about this, the veteran actress not just appreciated Big B for his denial but also confesses that the two are much in love with each other.
While talking to a renowned daily, when Rekha was quizzed about Amitabh's denial of their affair, the diva stated, "Why should he have not done it? He did it to protect his image, to protect his family, his children. I think it is beautiful. I don't care what the public thinks of it. Why should the public know of my love for him or his love for me?
I love him, he loves me – that's it! I don't care what anybody thinks. If he'd reacted that way towards me in private, I would have been very disappointed. But has he ever done that? I ask you. So why should I care about what he's said in public?
I know people must be saying 'bechari Rekha, pagal hai us par, phir bhi dekho'.  Maybe I deserve that pity. Not that he has 10 rollicking affairs! Mr. Bachchan is still old-fashioned. He doesn't want to hurt anybody, so why hurt his wife?
My reaction is not a typical reaction, I know that. But there's a total fulfilment. We are human beings who love and accept each other for what we are. There's more happiness in out lives than misery. Nothing else matters.
But as long as I am with that person, I don't care. I cannot identify me with anyone else."
Well, this confession by Rekha must have created a tension between Amitabh Bachchan and his wife Jaya.