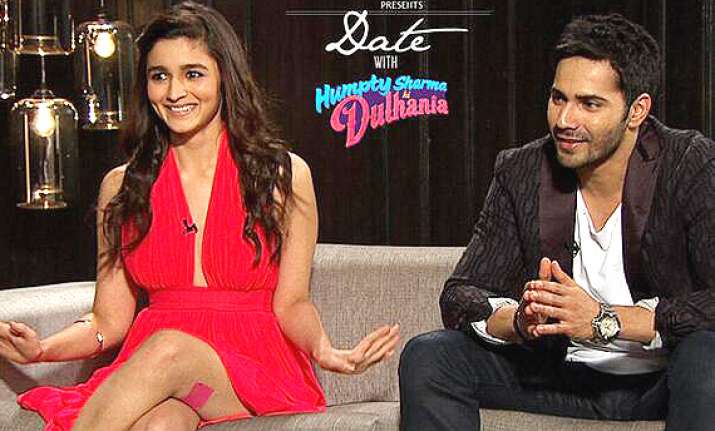 New Delhi: Humpty Sharma Ki Dulhania's stars Varun Dhawan and Alia Bhatt had an interesting rendezvous with the producer of their movie, Karan Johar.
 And the chit-chat session turned out to be an exciting one as the duo shared many revelations about each other and about them working in the movie.
Date with Humpty Sharma Ki Dulhania was much like Karan Johar's 'Koffee with Karan' show, where the witty producer acted as the host and bombarded the actors with his set of questions.
Apart from the revelations that Alia Bhatt likes to sleep a lot and Varun likes honesty the most, one thing that all the three celebs did in common was to urge Salman Khan to provide Humpty Sharma…with a few film screens across the nation.
Since Salman's Kick is going to hit the theatres this Eid, and no doubt the film has been anticipated to be a blockbuster this year, the makers of Humpty Sharma are scared over the success of their film.
And while Alia, Varun and Karan begged Salman on the show, all that happened was complete fun and the couple enjoyed tremendous laughter being on the show.
During the rapid fire round, when Karan asked Alia to rate Varun 1 to 10 on how good 'kisser' he is, the lady took no time in rating him 10 on 10. On the other hand, when Varun was asked to do the same, he rated Alia 8 saying that she was still learning.
Alia, who was last seen romancing Arjun Kapoor in 2 States also deemed that Varun is a great kisser and that she never 'kiss and compare!'
Watch the entire Date with humpty Sharma Ki Dulhania here…     
Answering another question, Varun described Alia as "Ladki flexible hain, aaloo ki tarah hain, Kidhar bhi fit ho jaati hain, uski twachaa butter ki tarah hain".
Though the entire tete-a-tete session was loud, fun and quite exciting, both Alia and Varun left no loop whole in entertaining their fans. The sporty actress even talked about how she feels about jokes being made on her.
Written and directed by Shashank Khaitan and produced under the banner of Karan Johar's 'Dharma Productions,' 'Humpty Sharma Ki Dulhania' is slated to release on July 11.