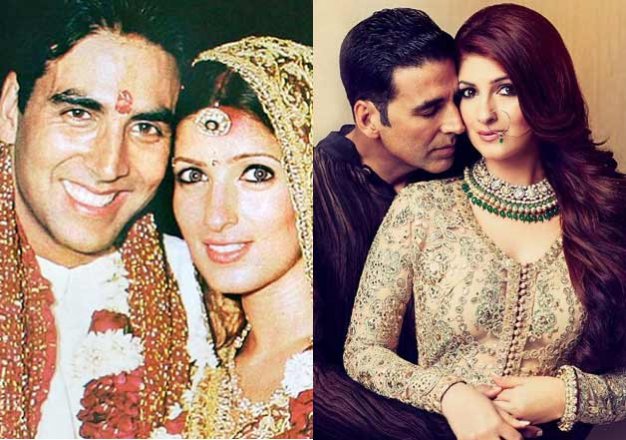 New Delhi: Actress Twinkle Khanna comes from an illustrious movie family, her father Rajesh Khanna was film industry's first superstar and her mother Dimple Kapadia, one of the most gorgeous heroines of her time. Though, her entry in Bollywood was smooth, she got vanished from the film industry lately.
Twinkle married actor Akshay Kumar in the year 2001. It gets one into thinking how did lover boy, a stupendous martial arts expert and a self-made superstar win over Twinkle who had a sophisticated background?
Well, as it turns out, he didn't. He just got lucky with a bet.
No, we are not feeding you gibberish knowledge, this is how Twinkle Khanna married Akshay. On Twinkle's 41st birthday today, we tell you what actually happened.
Akshay met Twinkle during a Filmfare shoot and developed an instant crush for her. Twinkle, being the blunt and not being the one to mince her words, did not pay much heed to him. While they were filming together for 'International Khiladi' in 1999, Akshay made it his life's goal to impress her.
But, all he got was failure till Twinkle signed 'Mela', the 2000 movie in which she starred along with superstar Aamir Khan. Tina, as her close friends call her, was confident that the movie will be a hit.
During a candid chat with filmmaker Karan Johar's show Koffee With Karan, Akshay revealed, "She was very confident about Mela and said that if the film didn't work, she would get married. Fortunately for me, Mela flopped, and we got married."
Well, Akshay owes his married life to Aamir.
Though, Twinkle has retired from acting but her presence can't be missed. Her Twitter handle, @mrsfunnybones, her articles in newspapers and her book 'Mrs Funnybones' remain the talk of the town.
Here's wishing the gorgeous lady who always makes us laugh, a very happy birthday!