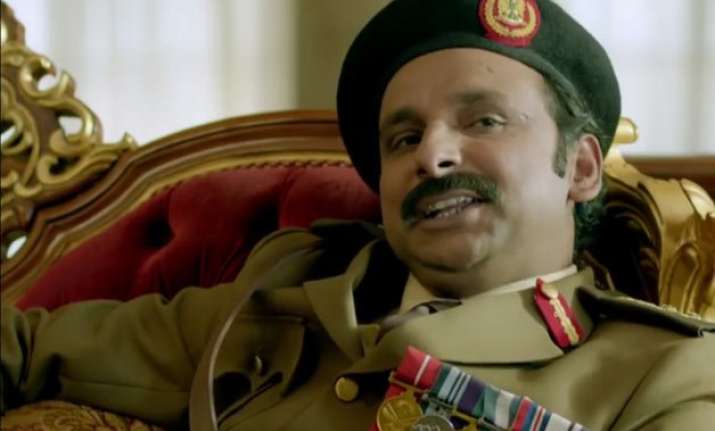 New Delhi: Ever since a movie based on 1990s Iraq's invasion on Kuwait was announced, every one was curious to know about the movie, cast and what the movie will be like.
The movie is 'Airlift' and when the trailer of the movie was released it gave goose bumps to everyone.
And since then it has been the talk of town, especially the main character of 'Airlift' Ranjit Katyal which is played by Akshay Kumar.
Even before the film has hit the theatres, Akshay is being praised for being a part of such a movie and the of course the trailer itself has made everyone go gaga about 'Airlift'.
But apart from Akshay, who else is bagging the eyeballs is the villain of 'Airlift'.
Wondering, who is he?
We are talking about the Iraqi major who is seen threatening Akshay in the trailer.
He is Inaamulhaq, who will be seen playing the key role of an Iraqi Major Kahalf Bin Zayd who is the main antagonist of the evacuation that the film is based on.
Inamulhaq made his Bollywood debut with Award winning movie 'Filmistaan' where he was seen playing the role of a Pakistani.
The actor is quite happy after signing 'Airlift' and says the movie means a lot to him.
On being quizzed by a leading daily about what made him do a movie like 'Airlift', Inaamulhaq stated, "After Filmistaan, I had great expectations from myself. I have heard this somewhere that if your second film isn't better than the debut, then your first film's success is considered a fluke. I kept this line in mind while going through film scripts. But when I got Airlift, I felt that this should be my second film."
He further added, "Airlift means a lot to me. Every actor is his own critic and we all know from within what works and what doesn't. I trust myself and the film and I know that this film will not disappoint. I am very grateful to Director Raja Menon, Emmay Entertainment and T-Series who had the faith in me and trusted me to handle this big responsibility".
Inaamulhaq even went on to reveal how he bagged the role of the antagonist in 'Airlift'. "Raja Menon, director of Airlift, praised me for Filmistaan, and had told me that whenever he makes a film, he will cast me in it. So when Airlift happened, Raja called me for the audition. But Akshay was in the favour of casting an Iraqi to get authenticity for the role. However, Raja convinced Akshay to check out my audition tape, which he did. After watching the tape, Akshay didn't want anyone else to be cast in that role other than me," Inaamulhaq was quoted saying.
'Airlift' which also stars Nimrat Kaur, will release tomorrow. Let's see if Inaamulhaq is able to leave a mark with his role in the movie.