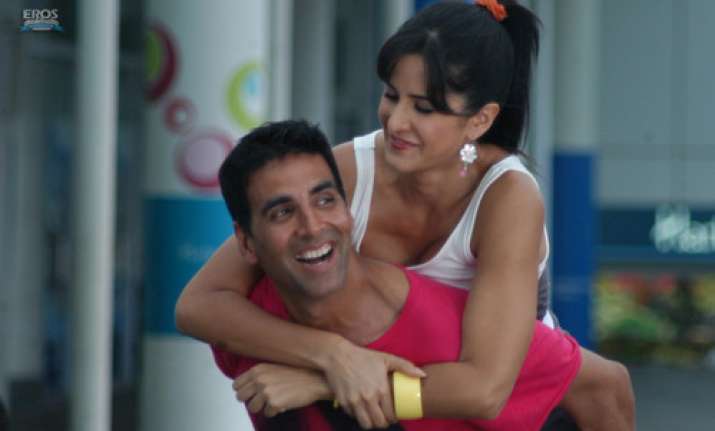 Bollywood star Akshay Kumar lost his cool with his Tees Maar Khan co-star Katrina Kaif for keeping him waiting, says a media report. On Sunday, during their train ride from Mumbai to Lonavla for the music release of Tees Maar Khan, Akshay fired Katrina when she went for the umpteenth time for her makeup.
According to an eyewitness, "They were to do joint interviews together for the media, but every five minutes Katrina would run off to touch up her make up and hair. Akshay was patient for the first few times but when she went off to check the mirror for the umpteenth time, the patient actor lost his cool."
The source continues, "When she returned, he fired her for keeping him waiting. She later sent him a message apologising for the delay. But not before she pointed out how he always fires her without finding out the real reason."
A friend of the actress says, "It wasn't just the hair and make-up. Poor Kat was shivering because the AC in the compartment was turned up. She had gone to fetch her shawl/jacket from her compartment which was right at the end.  It took her five minutes to find it. Akshay started firing her for no fault of hers as if she was a junior artiste. He wanted to wrap everything early, and he took it out on her. But she apologised, without arguing her case."
A source close to Kumar says, "It was said in fun. Kat and Akki are good friends and on and off the sets they are seen joking and fooling around with each other. That's why their chemistry shows so well on screen. It was not a serious thing and when later Kat sent him a sweet message, he cooled down."