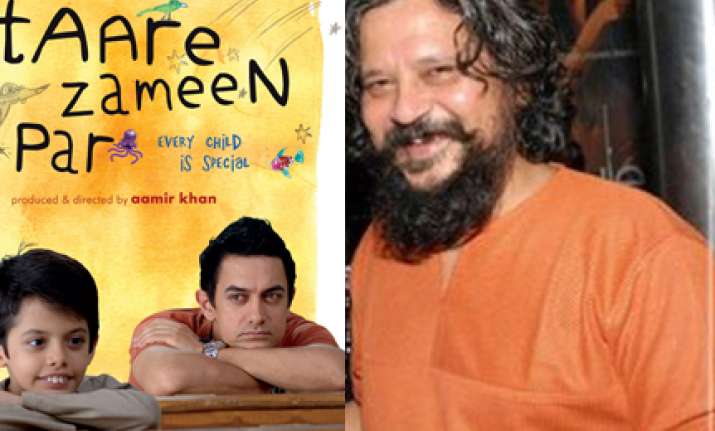 Once bitten twice shy seems to be the case with Amol Gupte, the man behind Aamir Khan's directorial debut 'Taare Zameen Par', as the artiste wants to remain an outsider in Bollywood. Gupte is presently working on 'Stanley Ka Dubba'.
"I never entered the film industry. Even now, I am not in it. I am an outsider and I like to stay that way. That is the only way I will be able to do things differently and not confirm to the rules. I will work from outside," Gupte told PTI on the sidelines of the 11th Osian's film festival.
Gupte, who worked for many years on his pet project 'Taare Zameen Par' before taking it to Aamir, had a fallout with the actor when he decided to call it his directorial venture. Aamir also produced the film.
But the scriptwriter-actor-director has decided to let bygone be bygones and move ahead
"I am happy that I changed the rules by getting a big brand (Aamir) to act in my movie without a heroin and whose central character was a child. It worked," Gupte said.
 "So much so that he (Aamir) was so enticed by the project that he decided to call it his own. I feel good about. I feel nice. Did not it do something to the nation? Bring out something that hit the vein? My job is done,"  he said.
The artiste believes that being a conformist is a major requirement in the industry.
"A pattern is set here. The mould is same. Because we always like to see things in black and white and that does not excite me."
Gupte may have garnered all round praise for his villainous turn as Bhope Bhau in Vishal Bhardwaj's 'Kaminey' but the artiste is not keen to take up acting just for the sake of it.
"Post Kaminey I refused at least a dozen offers similar character or to play a villain. I got a great kick out of it but I would like to use my acting only as a tool," he said.
 "I decided to be a part of Vishal's project because it is not been there done that. His work is exploratory and which is why he allowed me to define Bhope.
I chose not to make it a caricature. I did not base it on any politician or a gangster. Bhope is his own self. His character is very child like and at the same time a very scheming one," the actor-director added. PTI