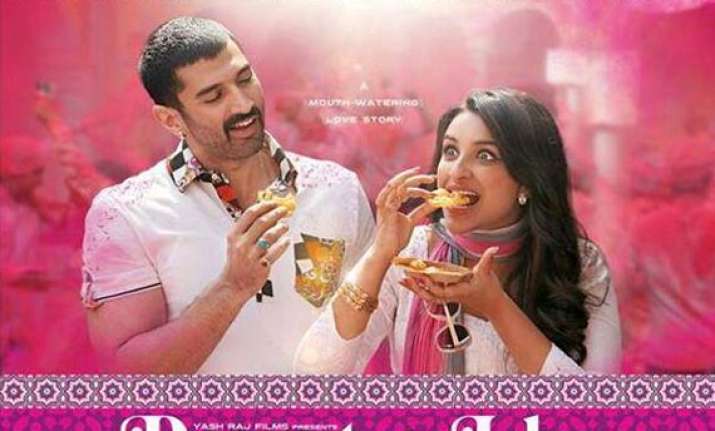 New Delhi: The trailer of one of the most anticipated flicks Daawat-e-Ishq starring Aditya Roy Kapur and Parineeti Chopra is here and looks absolutely delicious and tempting.
Why so? One because it has the two cities- Lucknow and Hyderabad, known for their scrumptious cuisines, conjoined and the other because we have two emerging stars representing them with an absolute 'adab'.
The trailer opens with an amusing take over the still prevalent- dowry system in our country, where Gulrez's (Parineeti) father played by Anupam Kher is in conversation with the 'dulah' party who are keeping their expensive demands before going ahead. Later Gulrez, who belongs to Hyderabad, mocks them which makes it evident that she plays a self-independent lady and would never bow down before the unscrupulous society.
What strikes us ahead in the trailer is the totally contrast Aditya Roy playing 'Lucknow ka aashiq  Tariq', basically a chef in this flick. Aditya's communication and screen presence is quite seemingly proving that he has come a long way from 'Aashiqui 2' and will leave a mark with this flick. While his attires are the most amusing things we couldn't miss, his expressions looks more refined.
Unsurprisingly the two meet and explore the lanes and tastes of both the cities. Since, Tariq is a chef, he uses the mouth-watering local recipes as his weapon to slay down his lovemate.
But just a few moments later, the usual yet cute romance between the two is given a break when it's discovered that there is something suspicious brewing in our female protagonist's mind.
There is betrayal and agony in the other part which surely keeps us intriguing. Written and directed by Habib Faisal, who earlier directed hits like Do Dooni Chaar and Ishaqzaade, Daawat-e-Ishq looks fascinating. With equivalent amount of romance, fun, a bit suspense and classic music by Sajid-Wajid, which blends perfectly with the surrounding, the flick is an utterly delicious treat for its fans. 
Daawat-e-Ishq hit the theatres on September 5th this year. Watch the trailer now.