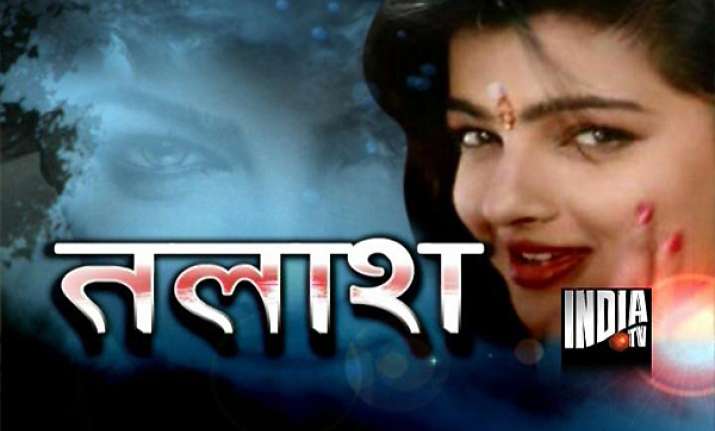 Mumbai, Sept 2: An investigation into the mysterious disappearance of Bollywood actress Mamta Kulkarni by India TV, has revealed several leads, which at the end, disappear to nowhere.
In a prime time programme Talaash telecast on India TV on Saturday evening, the channel's reporters fanned out to different places of Mumbai, met old acquaintances, film producers and spoke to Narcotics Control Bureau officials and even the Indian Consulate General in Dubai, but the actress, who scorched the screens in the Nineties, was untraceable.
First, a flashback: Born in an ordinary family  in 1972, Mamta joined Bollywood at the age of 20. She worked in Tiranga in 1992 with Raj Kumar and Nana Patekar, and carved a niche for herself in the industry.
She got the lead role the very next year in Aashiq Awara with
Saif Ali Khan
. Both Mamta and  Saif won the Best debut film awards that year. Director Umesh Mehra described how he selected Mamta for the role.
In 1993 itself, Mamta worked in the film Ashant with film star Govinda.  Mamta worked in nearly a dozen films in a brief span on two years, and signed up films at random for the next three years. Her fim with
Akshay Kumar
in Sabse Bada Khiladi was a super hit.
In 1994, she had another hit Krantiveer, produced by Salman's brother-in-law Atul Agnihotri, and acted with Nana Patekar under Mehul Kumar's direction.
Rakesh Roshan's Karan Arjun was a super hit in 1995, in which Mamta appeared with
Shah Rukh Khan
.
At one point of time, Mamta was working with all three great Khans in Bollywood, Shah Rukh, Salman and Aamir.  She did Baazi with
Aamir Khan
in 1995, which was a hit.
Film producer Madan Mohla says, Mamta's mother was the reason behind her downfall, as she was greedy, and forced her daughter to sign films recklessly.
Mamta then came in touch with director Raj Kumar Santoshi, who gave her an item number in the film Ghatak. The relationship prospered, and Santoshi signed her up for his next film China Gate, where Tinu Verma was the action director.
A quarrel between Santoshi and Mamta, led to the former forcing her out, but after a reported intervention by underworld don Chhota Rajan, Santoshi took her back, but pruned her role badly, and gave the  dazzling item number to Urmila Matondkar.
Mamta then levelled serious charges against Santoshi alleging he had asked her to come to his bedroom. It was the year 1997.
Mamta was nearing a steep decline in her film career, and her co-stars and producers began to avoid her, as she was found hobnobbing with the dreaded underworld, with Mumbai police anxious to unravel the Bollywood-underworld nexus in those turbulent years.
Her film Qila with Umesh Mehra flopped, and Chhupa Rustam with director Madan Mohla too fared badly at the box office. It was the year 2000.
In 2002, Mamta did the role of a Devdasi in the film Khajuraho, exposing her physical attributes. But the steep decline was evident.
And, with the shirtless cover image of Mamta on Stardust creating an uproar, Mamta's father left both his wife and his daughter. From 2002 onwards, Mamata has never been seen by anybody till this day - a period of 10 years.
India TV reporters tried to ferret out informations about Mamta by going to her homes in Andheri East and Andheri West.
The reporters went to her father R G Kulkarni's apartment in Sarvodaya Housing Society in Bamhanpara, Andheri East, but found the door locked since March 10, 2011.
Some of the neighbours told that both her parents were no more alive, but this could not be verified by her other family members.
Producer Madan Mohla told India TV that Mamta was probably married and settled outside India.  He had no other information to share.
Records in Mumbai police stations showed that Mamta Goswami had relationship with drug smuggler Vicky alias Vikram Goswami and she had three flats in Andheri West.
At Sky Anchorage apartment in Andheri West, near Vesova, India TV team found the report to be true. There were three apartments in Mamta's name. All three flats were locked, with mails lying unattended, but the society members said, Mamta was sending maintenance charges regularly for all the three flats. The society office-bearers refused to disclose any more information.
On checking with Narcotics Control Bureau, India TV reporter was told that Mamta's lover Vicky Goswami is a supplier of drugs for the underworld.
Veteran film critic S. Balasubramaniam told India TV that Vicky Goswami was struck by Mamta's beauty while the latter saw a secured future by staying with her lover. He hinted that the couple could be in Dubai.
India TV reporter rang up the Indian consulate general in Dubai, but the consular officials refused to impart information on grounds of personal privacy.
While checking other sources, India TV team got hold of a portion of Mamta Kulkarni's passport with a US visa stamped on it.
The details : Mamta Mukund Kulkarni, Indian passport no F 6616634. A visa for US was issued on 14/11/2010 and was valid till 12/11/2020. The visa was issued from the American consular office in Dubai. Nationality: Indian, and date of birth 20 April 1972.
But a strange thing  was noticed: a very old pic of Mamta had been pasted on the passport. If it was a new photograph, then Mamta might surely have undergone a drastic facial plastic surgery.
A Mamta looking beautiful in 2002, could not have looked so old in 2010. Was Mamta trying to erase her identity among acquaintances?
In Facebook, India TV team found a community of wellwishers for Mamta Kulkarni. A Dubai-based Indian cine critic Jawahar Chhoda said, he has hardly seen Mamta Kulkarni in the city, though he regularly attends social gatherings.
The last lead that India TV team got was a sketchy address reading  Polenoid bungalow, Jumeirah, Dubai. There are hundreds and thousands of bungalows and apartments in Jumeriah, divided into Phase 1, 2 and 3, said Chhoda.
India TV has appealed to viewers to contact  mail@indiatvnews.com or dial 0120-3051010 or 09350593505, if they have any concrete lead about mamta Kulkarni, the Bollywood actress who has vanished into thin air.