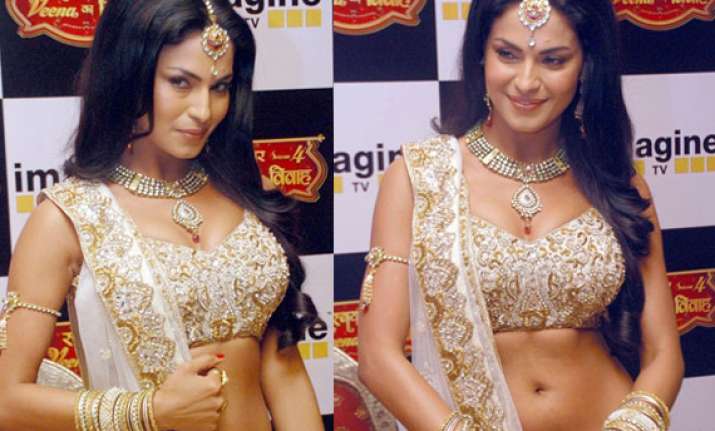 Mumbai, March 4 : Nearly 71,240 suitors have lined up for the hand of Pakistani actor Veena Malik in her TV swayamvar reality show, reports HT City.
 
For Swayamvar Season 4 - Veena Ka Vivah, Veena Malik has attracted the maximum number of entries (71,240) on Imagine TV, leaving far behind Rakhi Sawant (30,000), Rahul Mahajan (43,000) and Ratan Rajput (54,000).
 
Most of the 'applicants', the report said, are from India, Pakistan, the UK and the US, and even from faraway Poland.
 
Says an excited Veena: "I am overwhelmed by the response, but was thrilled that the maximum number of entries were from India."
 
Delhi, Haryana, National Capital Region, Moradabad, Uttarakhand are the frontrunners with 41 per cent of the entries from these areas, the report said.
 
Mumbai and Pune followed with 38 per cent.
 
The show received over 600 intrnational entries, with 39 per cent applicants from Pakistan and the rest from Saudia Arabia, US, UK, Poland, New Zealand, Bahrain and Nepal.
 
Says Veena Malik: "I knew that guys serious about getting married would send in their profiles, but over 71,000 is a number beyond my expectations.
And though I was expecting entries from the UK, US, India and Pakistan, I found it surprising to see a large number of entries from Poland."
 
"I think Pakistani and Indian girls are famous for their beauty, family values and tradition, which is why even guys from Poland are interested."
 
The show's production team screened the entries and whittled them down to 116.
 
Veena then picked the top 40. "Choosing the 16 finalists is giving me sleepless nights", says Veena.
 
Veena Malik will get Rs 3 crore for the show and an additional Rs 1.5 crore if she gets married.
 
"I want to grow old with my husband. I want a soul mate."Sure, why not. Money makes the world go round.