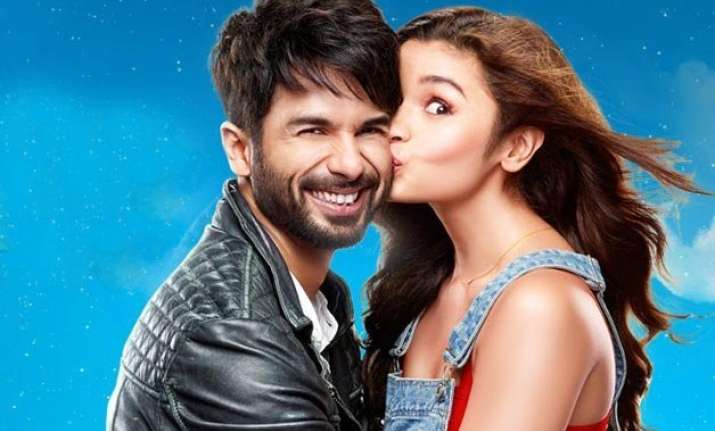 New Delhi: The festive season is going on and it is the perfect time to spend some quality time with your family. While festivals are not complete without some masti, fanfare and some drama, this week box office too will witness all this with the release of Shahid Kapoor, Alia Bhatt starrer 'Shaandaar'.
An unsusal rom-com 'Shaandaar' helmed by Vikas Bahl has bagged a lot of attention ever since it was announced. While the fans are going all crazy to watch Shahid romancing Alia, it has been one of the most awaited films of the year.
'Shaandaar' is a love story between the two insomniacs who are caught in an unusual scenario. And Shahid and Alia are all set to amaze the audience with their chemistry.
So as the film will hit the theatres tomorrow coinciding with Dusshera , we bring you 6 'shaandaar' reasons for not to miss this fun-filled love story
Shahid Kapoor-Alia Bhatt's sizzling chemistry:
It is the first time ever that Shahid Kapoor will be sharing the silver screen with Alia Bhatt. While this fresh pair looks extremely adorable together, the audience has gone all gaga ever since the release of the trailer of 'Shaandaar'.
Shahid Kapoor looks hot in his character of a wedding planner, while Alia will be herself- complete bubbly chipry girl.
Peppy Music:
Music director Amit Trivedi did complete justice to 'Shaandaar' with his quirky music. The soundtracks of 'Shaandaar' are ruling the chartbusters and are something which one can easily relate to.
With the use of everyday slangs mostly used by the youngsters, 'Shaandaar' is indeed an electrifying album with quirky songs which has made its way directly in everyone's playlist and you can't afford to miss it.
Storyline:
'Shaandaar' is an unusual romantic comedy based against the backdrop of a destination wedding. It is a love story of rich girl Alia (played by Alia Bhatt) and a wedding planner Jagjinder Joginder (played by Shahid Kapoor) and Pankaj Kapur will be seen playing the most adorable villain in the love story.
Both Shahid and Alia will be seen together for the first time on the silver screen and after the release of the trailer people can hardly wait to catch them in the theatres.
Vikas Bahl
'Shaandaar' is directed by Vikas Bahl, the one who created an aura of awesomeness with his last flick 'Queen'. He makes it sure that his film is a complete entertainment package and hopes the same with 'Shaandaar' too.
Vikas Bahl has left no stone unturned to make 'Shaandaar' a big flick and this is quite evident from his presence during promotions of the film.
Sanah Kapoor debut:
While 'Shaandaar' features the adorable pair of Shahid Kapoor and Alia Bhatt, it also marks the debut of Shahid's sister Sanah Kapoor.
Yes! Sanah is seen playing the second lead after Alia Bhatt, and is also playing her sister.
While Sanah looks really cute in her debut film she will be giving a real surprise to everyone with her acting skills.
Shahid Kapoor – Pankaj Kapur chemistry:
It will be the first time Shahid Kapoor will be seen sharing the silver screen with his father Pankaj Kapur.
However, they won't be playing father and son onscreen. Infact, Pankaj Kapur will be playing the role of Alia's father and he will be the cute villain in Shahid's love story.
While Alia and Shahid sizzle with their amazing chemistry, one can not afford to miss Pankaj Kapur's amazing acting as well.