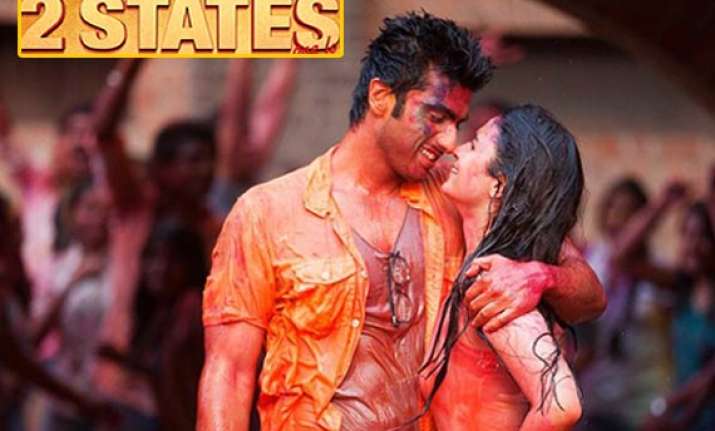 2 States is a classic example of the problems evoking prior the marital life of a couple from two different cultures. Abhishek Verman deserves applause for understanding the usual yet non-described feelings and mindsets of two different castes and narrating it with ease.

Ratings- ***1/2Stars- Arjun Kapoor, Alia Bhatt, Amrita Singh, Ronit Roy, Shiv Kumar Subramaniam and Revathy
Director- Abhishek Varman
Music Director- Shankar-Ehsaan-Loy
Though, it is not the first occasion that we are witnessing any inter-caste love story onscreen but here we have a twist in the love story which begins in IIM-Ahmedabad.
Krish Malhotra (Arjun Kapoor) is a Punjabi guy from Delhi while Ananya Swaminathan, is a pure Tamilian from Chennai.
From studying together to getting romantically involved, the two finally fall in love. Both are now well-settled in their respective jobs and so its time to get married. But like every love story it isn't a cakewalk. The two decide to approach each other's family and convince them. Moreover, they also have to make their family love the other party's family.
Now how the cultural differences, the likings and the state of minds of the two families dissect before accepting each other, is the story Abhishek Varman efficiently narrates in this Chetan Bhagat's book '2 States' adaptation.
He brings out the varied emotions from his characters which are mirror image of today's families and couples. Starting from
Karan Johar
's trademark college romance, the flick initially peeks into the colourful campus, libraries and a lot of books there. You aren't saved from the typical dance troops but we allow them to enjoy the least cinematic liberty.
But the core of the flick, which is the real test of the director and his actors, comes at forth when they decide to convince each other's families. Abhishek Varman inhales the feelings of the story from the book which is a true tale of author Chetan Bhagat. What diversifies it from the other love stories is the tackling of the situations coming at fore. Here our lovebirds aren't desperate to go against their and each other's families for nuptials but is mature enough to make them love and respect each other's tradition and cultures.
As Alia says in one scene, "It's not about the communities that make a difference but its about what kind of person we want to devote our life to", Abhishek with his characters brings out such simplistic yet important notions of the two varied castes before they finally agree to the marriage. It's not a lecture poking you in those 150 minutes runtime but is a moral arising with slapstick humour.
Though, you just might complain about the slow pace but it essentially requires you to carry a little patience to grasp the little things. The conversation between them is a bit extended but is necessary. It might sound a bit repetitive in our Indian movies, but social issues like dowry system too carries a place but is given a fresh and amusing take.
There are instances where the two families take a dig at each other's standard of living. While Krish's mom Kavita (Amrita Singh) presents and produces most of the Punjabi witty fun, Ananya's mom and dad (played by Shiv Kumar Subramaniam and Revathy respectively) present disciplined Madras.