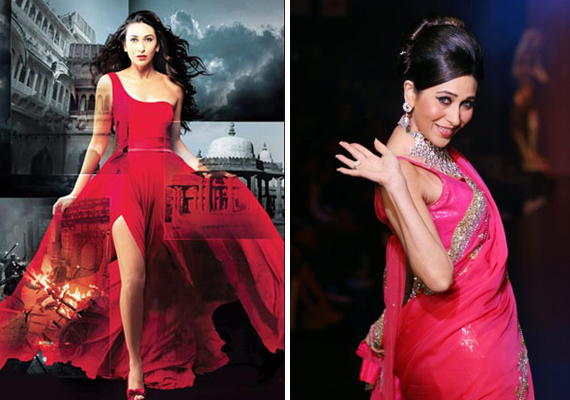 Mumbai, Apr 5: Actress Karisma Kapoor, who is making her Bollywood comeback with Vikram Bhatt's 3D venture 'Dangerous Ishq' says the film is "bold" in the sense of its subject line.
The supernatural thriller revolves around the quest of supermodel Sanjana (Karisma Kapoor) to save her husband Rohan (Rajneish Duggal) who suddenly vanishes under mysterious circumstances.
"Dangerous Ishq is a bold film in its own way because we are dealing with a topic which doesn't fall under a typical Hindi movie genre. Nowadays, a lot of people are intrigued by the idea of past life regression, tarot card reading etc; and it is a bold movie," Karisma told reporters last evening after unveiling the first look of the film.
Karisma portrays a careerist woman who belongs to glamorous world and is madly in love with her husband Rohan Thakral.
"I don't want to know about my past....I am too scared to know about it. But I do believe in it. I have met friends who had gone for regress and it all true. In this film you will know what all a person will go through regression," she said.
After acting in 'Baaz: A Bird in Danger' in 2003, the actress took a sabbatical from full-time acting for three years post her marriage to industrialist Sanjay Kapur in the same year.
Two of her films—'Mere Jeevan Saathi' (2006) and 'Zamaanat' (2006) were delayed release. 
Karisma, however, continued to appear on small screen with television series 'Karishma: A Miracle of Destiny', and also judging the dance reality show 'Nach Baliye 4' alongside actor Arjun Rampal and director-choreographer Farah Khan.
As far as big screen appearance is concerned, the actress did a cameo along with numerous Bollywood stars in Shahrukh Khan-starrer 'Om Shanti Om' in 2007.  Karisma, however, does not feel that her full-fledged acting assignment in the supernatural thriller was a comeback per se.
"I don't think it's my comeback, I was on a sabbatical or shall I say a maternity leave," the 37-year-old said.  
When asked about how it feels to face cameras after a gap, she replied ,"I am not nervous....it's been 20 years for me in the industry now. But from my first film itself till today, I have never been able to sit in the audience and see myself on screen. It's a secret that I am telling everyone".  
'Dangerous Ishq' which is slated for release on May 11 also stars Jimmy Shergill, Divya Dutta, Sameer Kochar, Gracy Singh and Ruslaan Mumtaz.