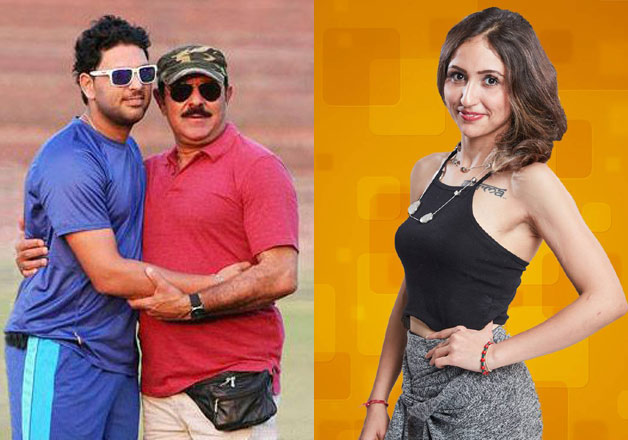 Yuvraj Singh's father Yograj Singh has slammed former Bigg Boss 10 contestant Akanksha Sharma over her claims about substance abuse by the cricketer. He rubbished all the accusation made by Akanksha and clarified that Yuvraj is not a drug addict.
In a recent interview, Akanksha, who happens to be Yuvraj's former sister-in-law, had alleged that the cricketer used to smoke pot and also mentioned that it was a common thing in the industry.
While this has raised a lot of eyebrows towards Yuvraj Singh's lifestyle, the allegations has certainly irked his father, who has come out in his defence.
"I'm a father of four children and none of them are drug-addicts. Yuvraj, as also my other three children, are like lions. They don't eat grass", Yograj stated.
He further lashed out at Akanksha and said that the BB10 contestant must put her house in order before accusing Yuvraj. Singh also emphasised that these false allegations are not going to hamper Yuvraj's career and that he is soon going to make his comeback in the Indian cricket team.
The Indian cricketer has won his battle with cancer a couple of years ago and it was assumed that his lifestyle habits made him prone to the disease. However, the reports were refuted by Dr Anshuman Kumar, an oncologist who during an interview to a leading daily, stated that Yuvraj's cancer was gene related as his father too had undergone a cancer treatment. Kumar also asserted that it couldn't occur due to smoking. Besides, Yuvraj's gonadal germ cell tumor was situated between the two lungs and not inside the lungs.
Dr. Anshuman also avowed that while he met Yuvraj post his cancer treatment, he didn't find him to be a drug addict in any way.
Akanksha Sharma's tussle with Yuvraj Singh's family has been hitting the headlines after she accused her mother-in-law Shabnam for ruining her marriage.
The lady was married to Yuvraj's younger brother Zorawar in 2014. However, their wedding lasted for just four months and the two are currently fighting the divorce battle.
Earlier, Sharma had also accused her in-laws for mental torture and alleged that she was forced to get pregnant.
While Yuvraj's mother had rubbished all the allegations and termed it a publicity gimmick, she is now planning to file a defamation suit against the ex-BB contestant.
Shabnam's laywer has reportedly told a leading daily that they will even take the footage of BB10 where Akanksha is seen discussing her divorce despite being a matter of sub-judice.