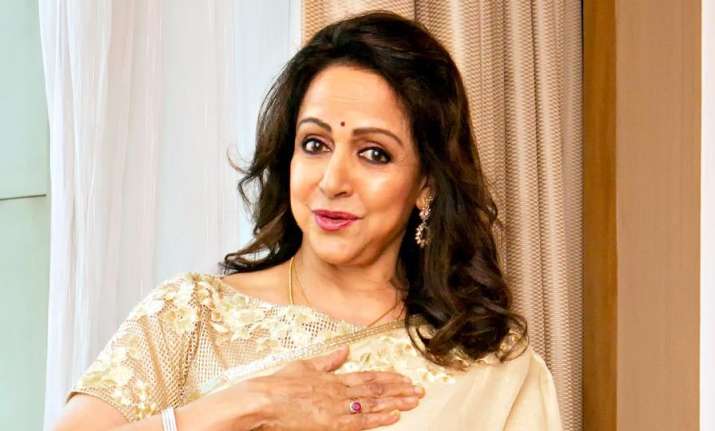 Actress Deepika Padukone's magnum opus Padmavati is yet to be released but recently, veteran actress Hema Malini has revealed that she once the payed Rani Padmini in TV series Tera Panhey, which was aired in 1986 on Doordarshan.
Sanjay Leela Bhansali's period drama is yet to receive a certificate from the CBFC. Several Rajput outfits and political leaders accusing the director of "distorting historical facts" in the movie.
Historians are divided over whether Padmini actually existed.
Malini had played a number historical characters on the TV series "Tera Panhey", which depicted 13 chapters from the history. Rani Padmini was one of the characters she played in the series.
The 69-year-old actor was speaking at a panel discussion, "Seventy is the New Seventy - Who the Hell Wants to be Thirty?" along with author-columnist Shobhaa De and Ram Kamal Mukherjee, who penned Malini's biography "Hema Malini: Beyond the Dream Girl".
When asked if people have become a little too sensitive about issues, especially in the case of "Padmavati", Malini said, "I feel very happy that I've done Padmavati's role, that is Rani Padmini in 'Tera Panhey'."
She then quipped, "Mera toh release bhi hogaya (Minealready got a release)."
In his book, Mukherjee mentions that the BJP MP fromMathura is extremely serious about her political career.
When asked where she sees herself in the next five years in politics, she said she does not harbour "big political"ambitions and wants to serve people.
"I was offered to be in Rajya Sabha, but because I was coming from another background, it was tough. I was scared initially. Advani ji and other leaders helped me become comfortable. I used to hear speeches of stalwarts in politics, which was an eye-opener for me...
"I wanted to be a member of Parliament from Lok Sabha too. Many people wondered 'Can she do it? She is an actress', but I really enjoy it. Being a politician, I get so much love from the people. I don't have any great ambition to be a minister or anything. I just want to serve people," Malini said.
(With PTI Inputs)