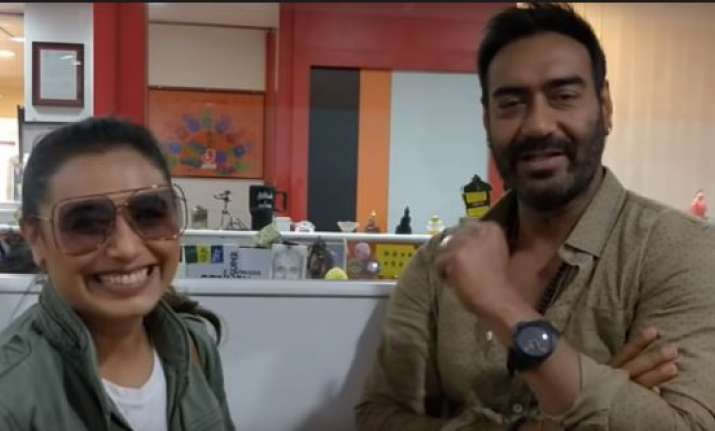 Bollywood actress Rani Mukerji is all set to shine on the silver screen with her upcoming film, Hichki. In a unique promotional gimmick, the lead actress has asked prominent people to share their hichki or untold weaknesses and how they converted them into their strengths. 
The most recent celebrity who was asked this question was superstar Ajay Devgn. Though Ajay has displayed incredible range as a performer and has been the common man's hero, his journey to stardom wasn't without hurdles.
Talking about his biggest hichki, Ajay revealed "When I had started out in the industry, there was this huge buzz that he is a very ordinary looking guy and he won't make it. He won't become a hero. I used to hear all of that, and it felt like a Hichki. But finally, I didn't listen to any of that and went ahead (with my acting)."
Having overcome this hichki and gone on to amass massive success, Ajay encourages everyone to ignore the hichkis in their life and instead focus on their goals.
Watch Ajay's hichki video here:
.@ajaydevgn ki #Hichki. pic.twitter.com/my18cfu0Xn

— #Hichki (@HichkiTheFilm) March 20, 2018
On a related note, before Ajay Devgn, three more celebrities were also asked about their hichki moments. While Shah Rukh Khan revealed that the biggest roadblock of his life was the death of his parents and Katrina Kaif shared that once she was criticised for her dancing, Anil Kapoor revealed that he was super conscious about his smile during the initial days in the Hindi Film industry. 
.@iamsrk ki #Hichki. pic.twitter.com/UbFuip0oXq

— #Hichki (@HichkiTheFilm) March 15, 2018
#KatrinaKaif ki #Hichki pic.twitter.com/kTB7cfUuGQ

— #Hichki (@HichkiTheFilm) March 16, 2018
.@AnilKapoor ki #Hichki | @yrf https://t.co/W7AiSZaUsu

— #Hichki (@HichkiTheFilm) March 17, 2018
On the other hand, filmmaker Karan Johar admitted that he was made to feel "lesser" when he was younger because he had a somewhat 'feminine' voice.
.@karanjohar ki #Hichki. | @yrf pic.twitter.com/sGluZqyGMn

— #Hichki (@HichkiTheFilm) March 19, 2018
Directed by Siddharth P. Malhotra and produced by Maneesh Sharma under the Yash Raj Films banner, "Hichki" will release on March 23.