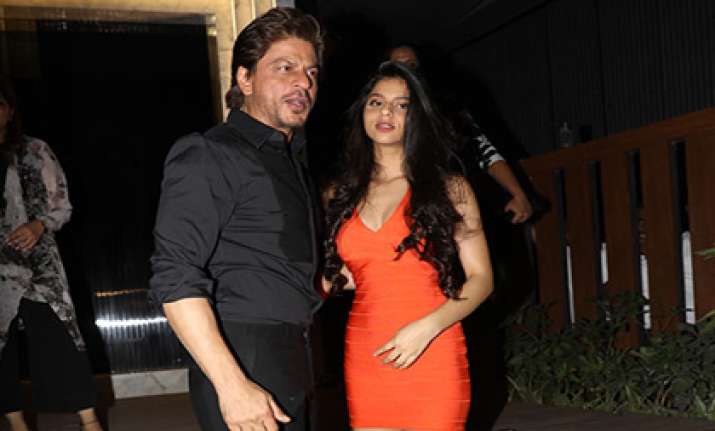 The to-be diva of Bollywood Suhana, recently went to a party with her dad Shah Rukh Khan and she stole all the limelight at the event from all the Bollywood bigwigs. Suhana stunned at the event in her orange on-piece dress and paparazzi simply went crazy to get a chance to click her picture.
Ahead of her Bollywood debut, Suhana has already developed a craze among the shutterbugs. And interestingly, the loving daughter of King Khan Suhana is known for her calm and quite attitude in the media. She known all the knack of dealing with mediapersons and simply passes a smile or wave when she is surrounded by paparazzi's.  
But the latest video of Suhana unfold a hidden side of the diva. In the video shared by a fan page, Suhana can be seen giggling and flipping her hair like an actress. When a friend of Suhana switch the camera on to capture her poses, she started flipping her hair like some actress and then burst into laughter.
This is the rarest site of Suhana, when she can be seen laughing out loud and imitating like a diva. But she fails to complete the act, which makes her burst into laughter. Suhana, who aspire to be an actress was recently applauded by veteran actress Shabana Azmi for her acting skills. And even fans want to see her soon on silver screen. 
For more entertainment updates follow our Facebook Page