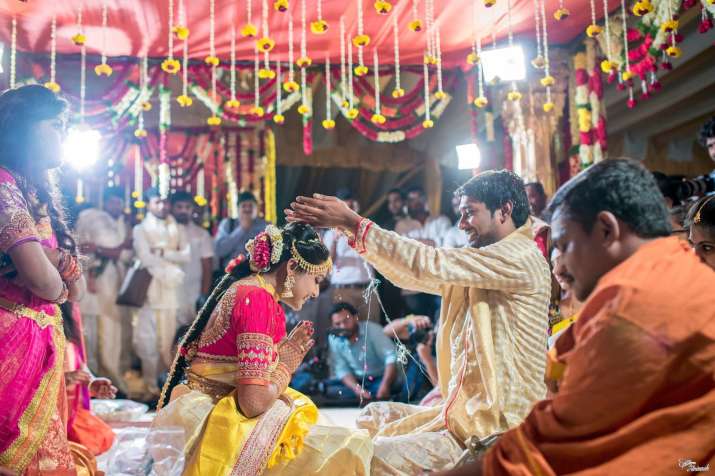 Telugu actor Varun Sandesh has all the reasons to be on cloud nine. The actor got hitched to his girlfriend actress Vithika Sheru here on Friday.
"August 19 will be remembered for ever. Love you always," Varun wrote on his Twitter page on Saturday.
He also shared a photograph from his wedding along with the tweet.
August 19th will b remembered for ever :-) Love u always @IamVithikaSheru :-) U r my Life!!! pic.twitter.com/kRgaED3t2p

— Varun Sandesh (@itsvarunsandesh) August 20, 2016
Varun and Vithika first met and fell in love on the sets of last year's Telugu romantic-drama "Paddanandi Premalo Mari".
Happiest Day in my Life! Married to d woman I love more den anything:-) Thank u guys for al d wishes:-) God Bless!! pic.twitter.com/4x4xaVvEGi

— Varun Sandesh (@itsvarunsandesh) August 20, 2016
While Varun is known for working in Telugu films such as "Happy Days", "Kurradu" and "Kotha Bangaru Lokam", Vithika has starred in films across southern industries.
In Telugu, Vithika has worked in films such as "Prema Ishq Kadhal" and "Jhummandi Naadam".
Here are a few pics which was shared on Twitter:
#VarunSandesh and #VithikaSheru this love birds Gets married.
Congratulations and wishing this couple all the best. pic.twitter.com/K745FodV8u

— Ticket4u (@Ticketforu) August 20, 2016
ఘనంగా వరుణ్‌సందేశ్‌ వివాహంhttps://t.co/1lC1MU2Kxm#Breaking_News #Tollywood #Hero #Varunsandesh #Marriage pic.twitter.com/fvpFxfKQJw

— ఈనాడు (@eenadulivenews) August 19, 2016
In pictures: #ManchuManoj at #VarunSandesh #VithikaSheru Engagement! @HeroManoj1 pic.twitter.com/oNmTK1iQyl

— CineShutter (@CineShutter) December 10, 2015
#VarunSandesh and #VithikaSheru Engagement Photos - https://t.co/xggRQe8bqp #tollywood #manchulakshmi #nani pic.twitter.com/NTu6FtDc2s

— Ragalahari (@Ragalahari) December 10, 2015
#VarunSandesh-#VithikaSheru Engagement Photos @ https://t.co/Ga4uiLfT4P
@iamvarunsandesh @IamVithikaSheru pic.twitter.com/FT5UpMnAQf

— FirstShowz (@firstshowz) December 9, 2015
With IANS inputs