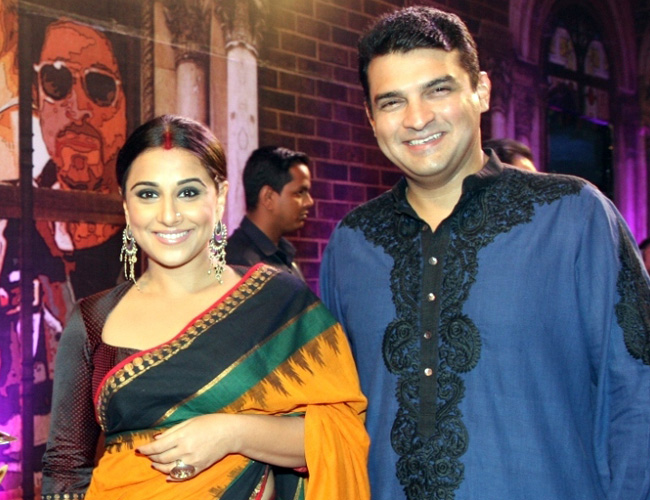 Siddharth Roy Kapur has undertaken a new journey of spearheading his home banner Roy Kapur Films, but says he would neither cast his wife Vidya Balan nor his brothers Aditya and Kunaal in any of the projects.So far, Siddharth has announced three projects. Asked if we can expect to see the National Award winning Vidya in any of the films, Siddharth told IANS here: "Actually, as a family, we have all decided to keep the professional and the personal separate, and that works very well for us as we can be objective about each other."
None of the brothers either?
"Yes, we are all on our own paths but very supportive of each other in everything we all do," he added.
His slate of films include an Aamir Khan-starrer biopic on astronaut Rakesh Sharma, a biopic based on the life of a man named Vijendra Singh who had lost his wife Leela in the Uttarakhand floods, and another movie based on a book.
Meanwhile, Vidya Balan spoke about the nepotism debate and said isn't interested in it at all. The ongoing debut on existing nepotism in the film industry is just plain "boring", according to the Begum Jaan actress. Vidya, who is returning as ambassador of the Indian Film Festival of Melbourne (IFFM), expressed her opinion and we can't agree more. This year the gala will be held between August 10-22, showcasing over 60 films
The actress said ,"With due respect to everyone who embroidered this controversy, I am bored with this discussion on nepotism. "I mean I am seriously bored on who is on which side of the debate these days. I turn the page of the newspaper the moment I see the word... I am not interested", the Begum Jaan actress said.
(With IANS Inputs)
For more entertainment updates, follow our Facebook page