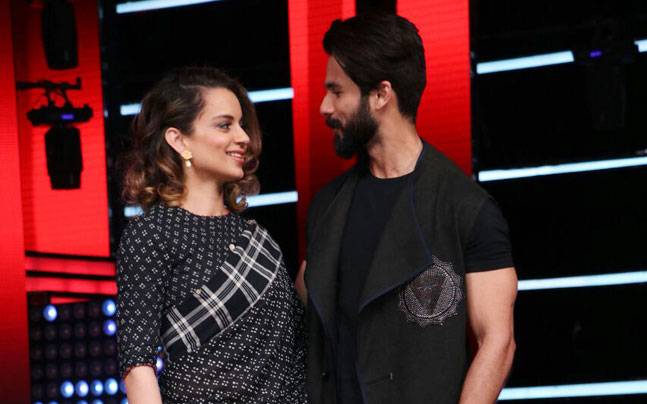 Bollywood actor Shahid Kapoor, who is playing the role of Maharawal Ratan Singh in the controversial movie Padmavati, has thanked his Rangoon co-star Kangana Ranaut for extending her support to the film. Kangana and Shahid didn't get along well while shooting for Vishal Bhardwaj's film Rangoon. 
Shahid, who was present at the Reebok Fit To Fight Awards on Thursday night, said: "You feel very grateful that people are supporting you, so I am thankful to Kangana (Ranaut), and to everybody else who has spoken for 'Padmavati', and has been so kind and brave to come out there and express themselves."
"Sometimes there has been anger, sometimes people have been emotional, sometimes they have been very logical in breaking it down, but there are a lot of people from the fraternity who have come out and spoken for the film."At such times you feel a little vulnerable, and you feel a little emotional because everybody has put in so much work into the film, and it is a lot of sincere work. I don't think you can make a film like 'Padmavati' unless you give a part of your heart and soul to the film. Obviously, the leading face is Sanjay (Leela Bhansali) sir, and we are just following his footsteps," he added.
Asked if he is scared of the whole situation, Shahid said: "I don't think scared is the right word. I don't think creative people should be scared because you can't create if you are constricted. You can't create unless you feel liberated and open, and I think art is a reflection of society at large. So it is important to express yourself with a certain sense of freedom, especially in a democracy."
"Everybody is concerned, the whole fraternity has expressed a lot of concern because there is enough that you deal with when your film is coming out -- there are issues like piracy and there are a lot of other issues, larger issues that one is dealing with," he added.
Few Rajput outfits are opposing the release of Padmavati over alleged distortion of historical facts. The movie is based on Rajput queen Padmavati and also features Deepika Padukone and Ranveer Singh. Earlier, it was slated to release on December 1 but has been postponed due to increasing controversies.
(With IANS inputs)