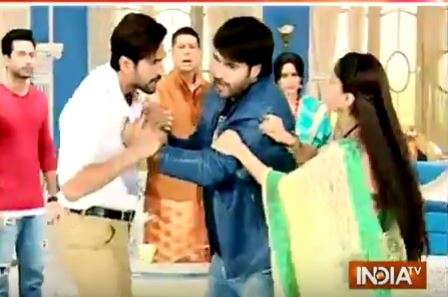 Harman thrashes Balwinder in Colors' show Shakti
Harman has turned into an angry young man and has started thrashing Balwinder for misbehaving with Saumya. It seems this was the plot by Preeto as she was enjoying the scuffle. Balwinder hid behind Preeto but of no use, in fact Saumya also tried stopping her husband but Harman was raging in anger. Suddenly, the female protagonist Saumya went missing. Did she got upset with Harman or is this a hint of a new kidnapping twist in the daily soap? Interestingly, Balwinder and Harman are real-life friends and know each other since past few years. Balwinder says that he is quite happy to share the screen with his good friend.

  
New entry in Dhai Kilo Ka Hath 
Piyush is so scared that he has wrapped his phone with a piece of cloth. He is terrified because someone is blackmailing him. Let us tell you what exactly is going to happen. There will be a new entry in the show named Rashmi. The new character will bring lot of twist in the ongoing drama.
Sasural Simar Ka: Huge fight between Piyush and Sameer
In a new twist, Piyush thrashes Sameer badly and it ultimately leads to a minor scuffle between them. Piyush thought that Sameer is misbehaving with her sister Sanjana but actually nothing happened as such. Finally Sanjana ends the fight by telling the truth.
Drunk Sooraj burns Chakor's picture
Sooraj is missing Chakor badly. Unable to find his ladylove he start burning her pictures. Meanwhile, a Good Samaritan saves Chakor and takes her to hospital.
Stay tuned to this place for more telly updates