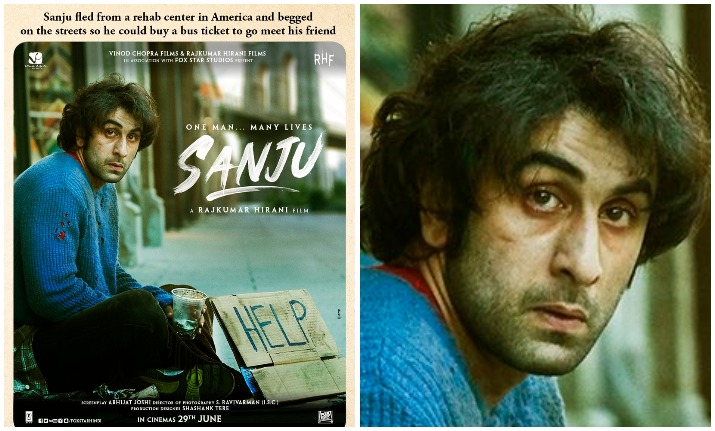 You think you've seen it all in Sanju trailer which was dropped by the makers last month? Think again. Rajkummar Hirani, the helmer of this biographical film, has been dropping hints on Sanjay Dutt's controversial life with each poster and song. A few days ago, Sanju song Kar Har Maidaan Fateh featuring Ranbir Kapoor as Sanjay Dutt was released and it's already trending on the charts ever since then. On Thursday morning, Rajkumar Hirani dropped new posters of Sanju which featured many facets of Sanjay Dutt's life in pictures.
In one of the pictures he shared, Ranbir Kapoor as Sanjay Dutt can be seen seated on the streets of America with plastic glass in his hand to collect the money. According to the poster, Sanjay Dutt ran away from the rehab centre to meet his friend. However, due to lack of money, he just sat on the streets asking the passerby for some help.
Sanju's journey is marked by many ups and downs. Some moments suspend you into disbelief. See these postcards i.. Every image a story.. a story unbelievable but true... #BelieveItOrNot #Sanju #RanbirKapoor @FoxStarHindi @VVCFilms #RajkumarHiraniFilms pic.twitter.com/aonv8f6DDT

— Rajkumar Hirani (@RajkumarHirani) June 14, 2018
In another picture, the petrified Sanjay Dutt (Ranbir Kapoor) is seen in a car, nonchalantly looking at the paparazzi gathered to click his pictures. According to the poster, the picture was from Rocky premier, which was Sanjay Dutt's debut film. Also, Dutt's mother Nargis Dutt passed away just days before the release of his debut film. He was devastated after his mother's death and also Sunil Dutt battled depression after Nargis Dutt passed away.
Sanju Posters Twitter Reactions
Only one finest filmaker and I respect you sir with my bottom of my heart I really admire you a lot because you are only guy in film industry who search story in India & always made unbelievable films, otherwise every person want to copy western cinema follow is ok but.

— Aaditya singh (@adityass07) June 14, 2018
Amazing . Can't wait to watch #SANJU #RanbirKapoor

— Rupam (@xhobdo) June 14, 2018
This is gonna be the most loved and shared journey ever..👍🏻😇👍🏻#RanbirKapoor #Sanju

— LaKsHyA (@AdvaniLakshya) June 14, 2018
Sanju Posters
Sanju Trailer Launch Event
Sanju is a biographical film chronicling the life of 90's superstar Sanjay Dutt who faced it all varying from imprisonment to drug addiction. Ranbir Kapoor is playing the titular role of Sanjay Dutt in the biopic while Dia Mirza is playing his wife Maanyata Dutt. Sonam Kapoor, Karishma Tanna are playing his love interests. The role of Sunil Dutt is being essayed by Paresh Rawal. Directed by Rajkumar Hirani, Sanju is scheduled to release on June 29th.