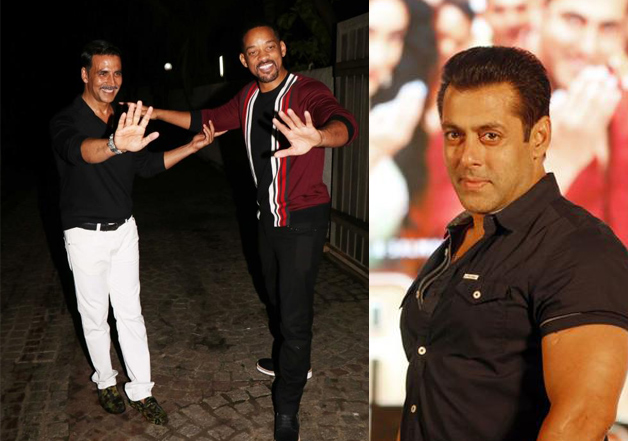 When suddenly pictures of Hollywood star Will Smith partying with Bollywood's Khiladi Akshay Kumar surfaced, it sent fans in a frenzy mode. Nothing about Will's visit to India was revealed and the pictures shocked and surprised the cine buffs. But seems there won't be anymore surprises about Will's short visit. If media reports are anything to go by, Will Smith will be attending Salman Khan's party at the latter's Panvel farmhouse before heading back to the United States.
It is being reported that Will is fast friends with the Bhaijaan of Bollywood, which is why Salman will host a party for him. Probably, this is one of the reasons why Salman was not seen at Akshay's bash for Will.
Salman, who has just wrapped the first schedule of his upcoming movie 'Tubelight' in Ladakh, will reportedly party with Will before he heads off to Manali to resume shooting.
Now, that this piece of information is out in the public, don't be surprised if you see images of Will and Salman anytime soon.
Will had a ball of a time at Akshay's residence at the party, or so the pictures from the bash tell. Speaking about the party, an attendee told a leading daily,
"An Indian spread was prepared for Will by Akki's personal chefs. It included chicken tandoori, biryani and gulab jamuns. Guests were surprised to see Akki dig into a bowl of firni with obvious relish."
The celebs who were in attendance were Alia Bhatt, Varun Dhawan, Jacqueline Fernandeez, Sonakhsi Sinha, Arjun Kapoor among others.