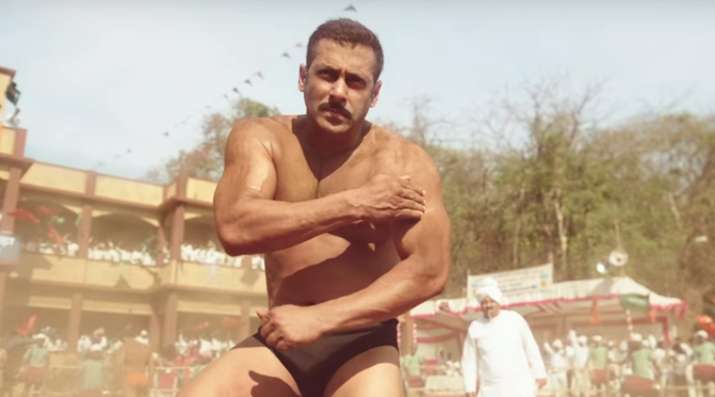 New Delhi: If Sachin Tendulkar is the 'God of cricket', Salman Khan is considered no less in stature himself, minus the controversies, of course.  At least a dozen actors, actresses, producers and singers reportedly owe their Bollywood careers to the 'Bhaijaan' of Bandra West.  
And there is good reason why Salman reigns as the leader as far as Bollywood is concerned. After all, he is the only Bollywood personality to have 10 of his films listed in the coveted hundred crore club; with the nearest to him being "King Khan" with six films in the list.
Aged 50, Salman is still a sweet heart for many ranging from school-going teenagers to ageing 'aunties'. The yet-to-marry star has dated leading Bollywood beauties including Aishwarya Rai Bachchan, Katrina Kaif
Known as a Yaaro ka yaar, everyone wants to be in the friends list of Salman Bhai, while no one dares to cross ways with him. When SRK did, it became a national headline.
Salman, who is equally in news for wrong reasons and good grounds, is known for speaking his mind.
When asked whom he would vote in the 2014 Lok Sabha elections, Salman hinted that he would vote for Congress that too in presence of the BJP's then Prime Ministerial candidate Narendra Modi.
"I request everyone to vote for the best candidate in their constituency, just like I have Priya Dutt and Baba Siddique in Bandra,"
Salman said after a kite-flying session with Modi, who was sworn in as PM after the election.
Priya Dutt and Baba Siddique, both belong to BJP's key opposition – the Indian National Congress – at both the national as well as Maharashtra politics.
Who can do such plain talking? The one and only Salman Khan!
But what is it about Salman that makes people go crazy for him? Why did Shah Rukh Khan's 'Fan' spell doom at the box office while 'Sultan' conveniently entered the Rs 300 crore club? Why does Akshay Kumar have to do four films a year to equal the box-office success of one Salman's film? We tell you why:
Fan following:
As Salman's co-star Kareena Kapoor Khan had once said during her interview, the Salman Khan is more like a religion in this country. And many would second her.
A large chunk of Salman's fan base is miles away from the criticism he gets. For them, he is always right and his movies teach them life lessons. The large number of fans that the 50-year-old superstar sees in single screens is similar to his followers that throng multiplexes. Movies to them mean the ones that Salman Bhai acts. For these people, style is what Bhai does, whether it is the middle hair parting of 'Tere Naam' or the blue bracelet on his right hand or the pirated 'Being Human' T-shirts. Nothing matters for the fans of Bhaijaan except for the man himself.
Varied Roles:
Over the past decades, Salman has experimented a lot with his movies. From being a lover boy to a tough cop to a sanskaari man and a wrestler, he has done it all. He makes a safe bet by thinking about families when he does movies. He does not kiss on screen, does not hurl abuses, just remains one whom every boy looks up to and every girl wishes to marry.
Controversy's favourite child:
Since the beginning of his career, Salman has been the favourite of controversies. Salman's fan base doesn't care much if Salman is accused and later acquitted for killing a homeless man or if he allegedly misbehaved with his girlfriends in the past or if he went out of his way to spark controversies with his remarks. They look beyond the controversies and will talk about him.
Box office success:
Salman has become synonymous with success. With Sultan's gross earning crossing Rs 300 crore mark, this makes his 10th consecutive hit. Salman's move to capitalise one of the biggest festivals of the world, Eid, too has worked in his favour. The festival which falls at the end of the holy month of Ramzan, as of late become as much about Salman's Eid gift as it is about the celebrations themselves. Most of his movis release on Eid and rake billions of rupees
On and off screen:
If he remains a cult Salman on screen, he does the same off it too. Just like his 'good boy' image on the silver screen, Salman is seen as a saviour of many in real life. His organisation 'Being Human' is a brilliant example where he helps the needy. In Bollywood, he has kick-started the careers of dozens, pointing towards his benevolent heart.  
A further testimony of his unbelievable fandom is that since 2006, Salman Khan is the most searched Indian celebrity in Google. The revelation comes at a time when Salman is already basking in the success of 'Sultan'. It also signifies that this stardom spans years.
This Eid has been rewarding for Salman as every conversation in almost every nook and corner of India is about 'Sultan'. But, don't be surprised if this success is repeated with Salman's next Eid release 'Tubelight' and his many nexts after that.