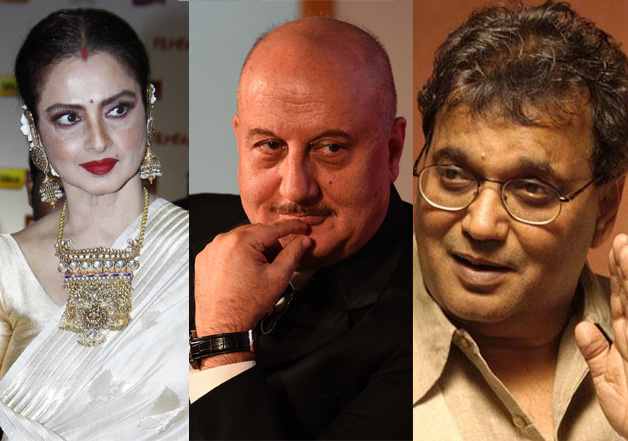 Bollywood producer Subhash Ghai and actor Anupam Kher reportedly said some horrible things about veteran actress Rekha after the death of her estranged husband Mukesh Agarwal. This revelation has reportedly come from Rekha's recently released biography which is creating immense buzz on the internet.
In 1990, Mukesh committed suicide as he had been clinically depressed for years.
Post his death, the actress had to face a severe backlash as nobody in the industry stood up to her. The actress only had Shashi Kapoor as a friend despite being in industry for over two decades and enjoying a superstar status.
The other people with whom Rekha worked with reportedly said some horrible and baseless things about her. Some even accused her of driving her husband to death.
Smooch, 'saas' and 'sindoor': 3 things about Rekha revealed in the biography everyone is talking about
Subhash Ghai, the prominent producer and director, had reportedly said:
"Rekha has put such a blot on the face of the film industry… No conscientious director will work with her ever again."
Another big name from Bollywood Anupam Kher also allegedly said some baseless things.
"She's become the national vamp. Professionally and personally, I think its curtains for her. I mean I don't know how will I react to her if I come face to face with her."
We don't know the amount of truth in these reports; however, these skeletons in the closet of Rekha certainly have the potential to set the tone for a big controversy in Bollywood.