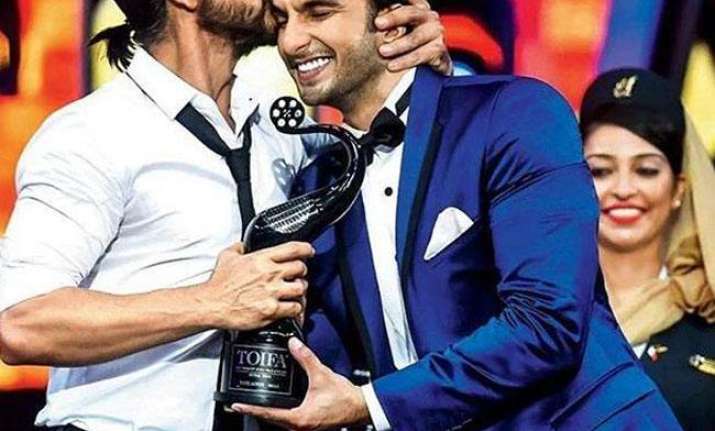 Filmmaker Aditya Chopra who has always chosen superstar Shah Rukh Khan for all his three movies, went for Bollywod's livewire Ranveer Singh for his latest directorial 'Befikre'. This choice of cast had raised many eyebrows hinting that maybe all is not well between the filmmaker and his favourite muse, but Ranveer feels that he was the first choice for the movie.
At the launch of the song, 'You and I', Ranveer said that he isn't entering anyone's territory. He said he has been involved in this movie right from the scripting and he is glad his mentor (Aditya Chopra) gave him this opportunity.
Slated for a release on December 9, 'Befikre' has actress Vaani Kapoor in the lead. The movie has three songs, composed by Vishal-Shekhar and written by Jaydeep Sahni.
Earlier Ranveer worked with Aditya Chopra on "Ladies VS Ricky Bahl" where Chopra penned the story of the film.
Noting that after Amitabh Bachchan and Shah Rukh Khan, he is the only actor in Bollywood directed by Aditya Chopra and Sanjay Leela Bhansali, he said: "I am so proud and happy. I think I am lucky to get such opportunity. Though I want to work with big names of Bollywood, I also want to work with young directors and fresh idea."
Through the film is grabbing headlines with Ranveer tagged as a serial kisser, he said that the film has got a U/A certificate. "The projection of kiss here is not wild or lust but as warm as a hug. It has been shown is a very tasteful manner... so perfect for family viewing."
For Vaani, it is her second film after a gap of three years from her Bollywood debut in "Shuddh Desi Romance" (2013). Sharing the reason for this, she said: "Adi sir advised me to wait for the right film to come. Now that this film is ready to release, I think the wait was worth enough."
As the film talks about new-age relationship of boys and girls where they have no time for love, asking about his opinion on the same, Ranveer said: "There is a generational shift on the perception and outlook of romantic relationship. This film represent young mind of today's generation. Personally, I am a bit traditional when it comes to relationships."
(With IANS Inputs)