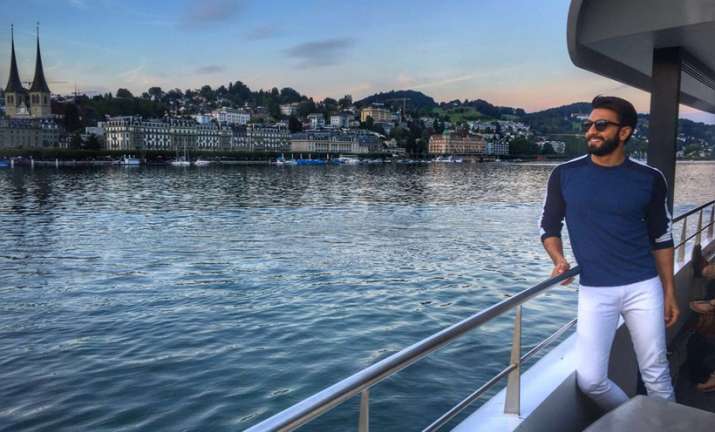 Actor Ranveer Singh has been named the Indian ambassador for Switzerland Tourism. Interestingly, Ranveer's vacation to this beautiful place earlier this year and given his fans something to talk about. The pictures too had gone viral.
Speaking on being named the ambassador, Ranveer said he had a great time there and is raring to go back. He said he did crazy things like sky diving and paragliding. He said he is desperate to try the slopes of St. Moritz and Titlis Engelberg.
As a part of his task as ambassador, Ranveer will be in charge of promoting Switzerland Tourism's campaign for 2017 -- Nature wants you back!
Known for his effervescence and adventurous nature, Ranveer tried an array of activities in Switzerland to get his adrenaline pumping.
From wakeboarding on Lake Zurich to ski jumps at the Swiss Museum of Transport in Lucerne, tobogganing on Mt. Pilatus, paragliding and skydiving in Interlaken, he tried them all. But adventure was just one of his holiday thrills.
"Being a versatile energetic and adventurous personality, Ranveer explored and enjoyed all that Switzerland has to offer. His passion and excitement for the country is what compelled us to request him if he would take on the mantle of Brand Ambassador to which he enthusiastically agreed," Claudio Zemp, Director - India, Switzerland Tourism added.
The "Bajirao Mastani" star is now looking forward to visiting Switzerland in winter early next year. During his next trip to the country, Ranveer will be visiting St. Moritz, village of Titlis Engelberg and will enjoy an array of activities and the country's local culture.
"Switzerland is a perfect place for a complete holiday experience that will leave you spellbound for days. Tourists look for a blend of sightseeing, relaxation and adventure together with easily available accommodation and good food and welcoming hosts," Ritu Sharma, Deputy Director, Switzerland Tourism India, said.
(With IANS Inputs)