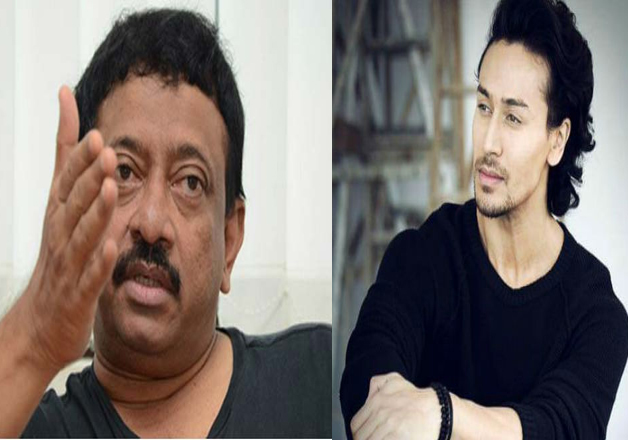 After making nasty comment on Sunny Leone, the controversy king Ram Gopal Varma's (RGV) new target is Tiger Shroff. If reports are to be believed the Sarkar 3 director called Tiger as 'transgender' but he was badly exposed by Vidyut Jammwal doing this. 
Seems RGV can't get over Tiger as he tagged him earlier also and called him Urmila Matondkar and babe of present time. 
Hey @bindasbhidu all my tweets on @iTIGERSHROFF are purely as ur fan and not otherwise ..please tell this to @AyeshaShroff and him pic.twitter.com/9a53ogH4b9

— Ram Gopal Varma (@RGVzoomin) March 2, 2017
Currently RGV is busy tweeting about a face off among Baaghi actor Tiger and Commando 2 actor Vidyut on his Twitter account. the director can be seen comparing both the actor. 
Am super sure that @VidyutJammwal will never have the guts to take on @iTIGERSHROFF 's challenge

— Ram Gopal Varma (@RGVzoomin) April 10, 2017
In a real street fight I will bet everything on @iTIGERSHROFF becos I believe he will finish off @VidyutJammwal with just one single punch

— Ram Gopal Varma (@RGVzoomin) April 10, 2017
Reacting to RGV's silly act, Vidyut telephoned him to confirm why he is doing all these comparison between Tiger and him. 
To which RGV replied he has no grudge with Vidyut and keeps calling Tiger with different names as woman, transgender, babe etc.
If @iTIGERSHROFF openly challenges @VidyutJammwal for a direct real fight @VidyutJammwal will runaway to the Shaolin Temple

— Ram Gopal Varma (@RGVzoomin) April 10, 2017
But RGV was unaware that his call was being recorded by Vidyut secretly. Vidyut recorded his conversation with RGV and planned to expose the director.
What happened next will shock you. After recording his telephonic conversation with RGV, Vidyut posted it on his SoundCloud account, thus exposed RGV publicly. 
Realising his mistake, Ram Gopal later posted a message on his Twitter account which read as, ''I want to thank @VidyutJammwal for the extraordinary expose not to the people about me,but for exposing me to myself about myself. I truly thank @VidyutJammwal for my changeover nd I want to apologise to Bruce Lee for not understanding him the way Vidyut made me realise."
Here are the tweets:
I want to thank @VidyutJammwal for the extraordinary expose not to the people about me,but for exposing me to myself about myself

— Ram Gopal Varma (@RGVzoomin) April 11, 2017
Just decided to get off Vodka and also want to apologise to every1 i evr bothered including Lord Ganpati's devotees nd @PawanKalyan 's fans

— Ram Gopal Varma (@RGVzoomin) April 11, 2017
I will always apologise for a mistake becos I have courage to admit.
--Bruce Lee

— Ram Gopal Varma (@RGVzoomin) April 11, 2017
Though it was done in my usual fun way,I apologise to both @VidyutJammwal and @iTIGERSHROFF for the irritation caused

— Ram Gopal Varma (@RGVzoomin) April 11, 2017