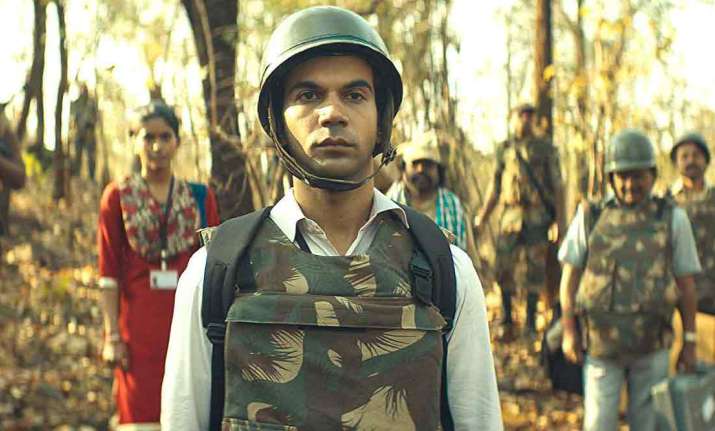 Newton sent to Oscars: After playing a goofy Pritam Vidrohi in Bareilly Ki Barfi, Rajkummar Rao is back with bang with Newton. The film, which has been receiving heaps of appreciation, has become India's official entry at Oscars 2018. The National-Award winning actor on Friday took to Twitter to announce the news."Very happy to share this news that 'Newton' is India's official entry to the Oscars this year. Congratulations team," he tweeted.
In an official statement, Film Federation Of India (FFI), confirmed the nomination of the Newton. The Hindi movie was the unanimous choice of FFI's selection committee, headed by Telugu producer C V Reddy. 
"'Newton' has been selected as India's official entry to the Oscars. It was unanimously chosen from 26 entries this year," FFI secretary general Supran Sen said. 
Filmmaker Hansal Mehta, who is a good friend of Rajkummar and has collaborated with him for films like "Shahid" and "Aligarh", took to Twitter to express his happiness and said that "Newton" is the best choice. Newton is India's entry to the Oscars. The best choice in years by the federation," Mehta tweeted. 
He added: "If films like 'A Separation' and 'Children of Heaven' made it to the Oscar nominations so can 'Newton'. It is our best shot. Manish Mundra go for it!" 
Megastar Amitabh Bachchan also lauded the film. "Saw the film 'Newton'... its stark reality was a treat to watch ! An eye opener on many aspects!" he tweeted. Newton revolves around a young government clerk who is sent on election duty to a Maoist-controlled town and how the ideological struggle puts him in an awkward situation.
Directed by Amit Masurkar, Newton released on Friday. The film is produced by Manish Mundra of Drishyam Films, the company best known for backing critically-acclaimed projects such as "Masaan" and "Umrika".
Rajkummar will soon be seen in other projects like "Love Sonia", "5Weddings", "Ittefaq: It Happened One Night" and "Fanney Khan". Popular TV host Jimmy Kimmel will return to host the Academy Awards in 2018. He will host the 90th edition of the awards on March 4, 2018.
Who is Rajkummar Rao
An ace actor who is defying all stereotypes of a Bollywood protagonist
You reduce him to a single scene, give him a one line dialogue but still he will be spectacular. That's Rajkummar Rao, the scene-stealer. Ever since the release of his first movie Love, Sex Aur Dhokha in 2010, the FTII passed out actor has amazed us with his remarkable acting skills. He belongs to that new generation of Bollywood actors where look hardly holds any significance. Be it Kai Po Che, Shahid, Citylights or Aligarh, we have only seen Rao growinng better with his every movie. When we look through his career, it won't be difficult to realise why this actor won National Award within three years of his career. Full Story
Why our hopes are pinned on Rajkummar Rao's Newton
This year, Hindi film Newton, which was picked out of 26 films by a jury of 14 members, has been declared India's official entry to Oscars 2018. And not without good reason. The film, written and superbly directed by Amit V Masurkar is a black comedy that triggers conversations on the many flaws in India's political and electoral system. The film's protagonist, election officer Newton Kumar (Rajkummar Rao) as an angry, sincere presiding officer, is on a mission to effect change in insurgency-hit state of Chhattisgarh by conducting a free and fair elections. The honest officer is reprimanded for being too strict about rules and regulations. He is accused of not knowing the other India, the India that is beyond his comfort zone. The film, in an understated manner, puts forth questions that are vital to a democracy. Full Story
Watch Newton trailer
For more entertainment news and updates, follow our Facebook page