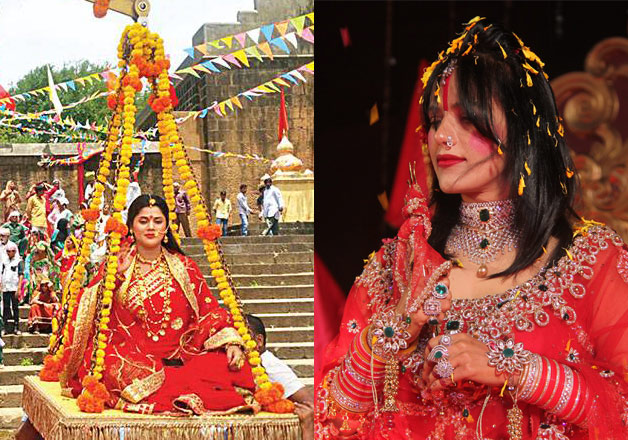 The upcoming show on Colors channel 'Devanshi' seems to be inspired from the life of self-proclaimed god woman Radhe Maa.
The TV serial, according to the media reports, is on the life of a cunning god woman having a huge following across the country like Radhe Maa. The god woman in the, yet to be aired, daily soap will be seen dressed like Radhe Maa i.e wearing a red bridal dress all the time.
Radhe Maa made it to the headlines after her name was dragged in series of controversies ranging from dowry harassment to involvement in sex rackets. However, the self-styled god woman have always maintained her stance of being 'pure and pious' on every allegations.
 Indeed, her connection with 'Devanshi' has been creating a lot of buzz in the tinselvile.
'Devanshi' will feature actress Karuna Pandey in the role of a god woman while the lead role of 'Devanshi' will be played by child artist Kashvi Kothari.
"The show is about a young girl called Devanshi whose childhood has been destroyed by the belief people have in self-proclaimed babas, and how Kusum Sundari's self-created belief system will put Devanshi's life in jeopardy," a source reportedly told a leading daily.
Apparently, there hasn't been any official announcement about the show having any link with Radhe Maa.
On the other hand, Radhe Maa has been making to the headlines for another reason as well. Reportedly, Radhe Maa is likely to be making her Television debut with the popular celeb based reality show 'Bigg Boss'.
However, neither the channel nor Radhe Maa has made any confirmation about it so far.