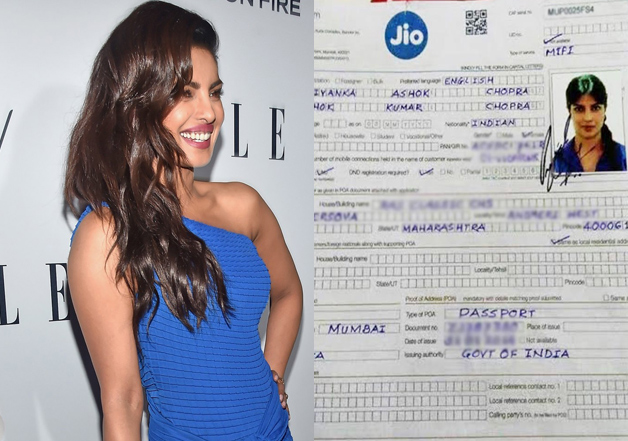 A picture of actress Priyanka Chopra applying for a Reliance Jio connection is going viral on social media. The form has a passport size photograph of PC and people on social media are going gaga with speculations that this could indeed be her application. Though, no one from Priyanka's team has said anything on this, it may be possible that this picture would be one of the billion Internet hoaxes.
Wondering why we think so? Let us tell you why!
For starters, have a look at a pic:
This 'alleged' form has no other details except her father's name, her nationality, gender, state, pin code and if DND registration is required or no. All this information about Priyanka is public and known to almost everyone.
Second, one of the give-aways of the highly talked about Reliance Jio 4G services is that one can easily get it just by presenting the Aadhar Card. So, this subscription form makes little sense in this scenario.
Thirdly, a star like Priyanka would definitely not think about the competitive prices and would rather use a connection she likes.
Lastly but not the least, Priyanka is seeing busy days with the second season of her T series 'Quantico' and not even in India, most of the year. Amidst the hectic schedule and long absence from the country, taking a new mobile connection would definitely feature way bottom on the priority list.
However, when Reliance Jio was launched last week, Priyanka took to Twitter to give her best wishes. She congratulated Nita and Mukesh Ambani saying that their vision will change the country.
Here is what she tweeted: